Georg Döller Achieves Senior President Rank At Healy World
September 9, 2020
By Team Business For Home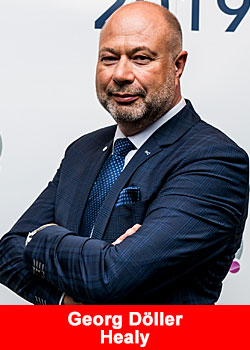 Maker. Manager. Mentor.
The success story of Georg Döller reads just as impressive as the facts that prove it. The native Austrian has been active in network marketing for 22 years now – and with amazing success. He has always reached the highest level of the compensation plan in every company he has worked with to date.
This is also the case with Healy World – and in record time. The professional networker reached the position of Vice President within just 8 months. Another 8 months later even the highest level: Senior President. The 30 personally sponsored people at that time have now grown into a team of around 60,000 sales partners.
In a nutshell: top performance that is also highly paid for.
With an estimated monthly income of up to 200,000 euros, Georg Döller is without a doubt one of the most successful networkers in the industry.
And yet, money was never really the motivation for entering the MLM business concept. The former restaurateur had already earned sufficiently through his 3 businesses with 50 employees. Rather, it was the desire for time that drove the serial entrepreneur to get into network marketing.
He stumbled upon Healy World just by chance. On a trip he met the founder Marcus Schmieke and his current upline Carsten Lange.
Thanks to the persuasiveness of those present and the enthusiasm for the product, Georg Döller decided to immediately start selling a medical device in the network.
But success requires more than a chance encounter: it requires a plan.
Georg Döller has long since found the key to success: organization, team building, motivation. Inspiring others for a common cause. That is his forte. Because together you can go the distance. In Georg Döller's case – all the way to the top.
About Healy
Healy is the leading provider of wearable wellness technology for the Direct Selling Industry.
Healy is a subsidiary of the internationally operating TimeWaver group. Our common vision is that all people should have the opportunity to live a holistically healthy life. Utilizing Information Field technology, over 2,000 doctors, practitioners and other therapists have used the frequency therapy of the Healy and TimeWaver systems. For more information visit www.healyworld.net
Notice: Healy is a microcurrent medical device that has been cleared by the U.S. Food and Drug Administration for local relief of acute, chronic, and arthritis pain and muscle soreness due to overexertion. Healy also has non-medical applications that use individualized frequencies to help balance your mind and body and relieve stress. Always use your Healy in accordance with its Instructions for Use.
For more information please visit: www.healyworld.net
Recommended Distributors Healy World