Sheila Chipepo Finds Her Purpose with Total Life Changes
September 8, 2020
By Nicole Dunkley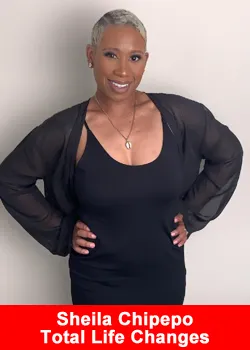 Sheila Chipepo joined TLC in July of 2018 because she needed a fresh start for her health. She wanted to lose weight, and she felt unhappy in her career and overall life:
"I was 237 lbs. and I was not happy with life. I had a job working six days a week, but I felt like I didn't have any purpose, and I wasn't fulfilled. And honestly, I was a bit depressed; my confidence was in the basement, I went through ups and downs trying to lose weight. My husband told me to make a decision, this back and forth has to stop, and from that moment, it was on."
Initially, Sheila was focused on her own health and wellness while using TLC products. But she saw that she could be an example for other people that wanted to change and show them that they will get results. Even her husband has experienced the positive effects of the products, specifically NutraBurst, and has much more energy, drive, and purpose, and he now owns a fitness business. One of Sheila's favorite product is the Original Iaso® Tea, and she lost 67 lbs. in 5 months from the tea and NutraBurst combination, along with a balanced diet and a vigorous workout at least three times a week.
Sheila says that TLC's culture is a vibe, and you have to experience it for yourself:
"TLC is in its bubble. It's hard to explain to someone unless they feel it. And TLC is a feeling, it is a family, and the way we are impacting the world is amazing."
TLC allows Sheila to be her authentic self and has reached personal milestones physically and financially. Her short-term goals are reaching Ambassador rank in the next 90 days. In the long term, she wants to be remembered as one of the most prominent network marketers to come to TLC. She is very grateful for this opportunity:
"I want to say thank you. Thank you to John Licari, thank you to Jack Fallon, my sponsor Coach Tammy, Coach Stormy. Because without you guys, I don't know where I'd be or where my family would be if it weren't for you guys at TLC."
About Total Life Changes
Total Life Changes (TLC) is a direct selling company offering a diverse product portfolio of health and wellness products. Founder and Chief Vision Officer Jack Fallon created TLC 17 years ago with a single product: NutraBurst®. Since that time, TLC has continued to develop weight loss and wellness products matched with an attractive hybrid binary compensation plan.
This allows Life Changers of TLC to be rewarded quickly for introducing new customers to its products and business opportunity. Find out why so many are saying, 'It really is different over here.' For more information, please visit www.totallifechanges.com
Recommended Distributors Total Life Changes