TLC's Ten-Minute Takeover Simplifies Business Tools For Its Life Changers
October 24, 2020
By Team Business For Home International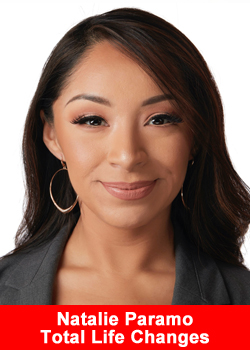 What could you do in ten minutes? Maybe make your morning coffee? Start a load of laundry? Well, at Total Life Changes (TLC), time is seen as an opportunity to learn and grow. So, Director of Customer User Experience Natalie Paramo created her new broadcast, Ten Minute Takeover, to show Life Changers that it is super simple to learn and grow their business.
The first episode focuses on the Life Changer App, which is essential for anyone starting their TLC business. The process to offer product samples is simplified and can be tracked in the app as well. The Life Changer app allows anyone to send product samples from anywhere in the world, and it's truly revolutionary.
Natalie says that the Ten-Minute Takeover idea was a team effort, and the Marketing team was a big part of the ideation:
"I was meeting with Kory Stokes (Creative Director) and Guadalupe Rodriguez (Marketing Manager), and I mentioned I wanted to train, and I want to have a show and record my first episode this week. I felt like I needed to do something. And if I didn't say I was going to do this, I would back off because I've always been afraid and shy about being on camera. And Guadalupe came up with the title, 'Ten Minute Takeover."
Natalie believes short training is easier to learn and retain, and she aims to deliver something to Life Changers that will be different from anything else they have seen.
New Life Changers can expect to learn vital information in a new way:
"I want them to take away information that they didn't know, or if they did know, I want them to be able to share that information with their team. Life Changers can share the video, or they can teach their team on their own using my material."
Natalie wants to bring light to the less covered topics and train on more things outside of the TLC systems, including business growth and marketing tools.
Natalie loves explaining the benefits of the tools in the TLC back office and says that it is something she is proud to do for TLC:
"I'm very excited about the new things that we have planned to bring to the back office. Right now, they can pull reports about customer sales, ranks, and personal account data; but we testing some incredible new features that will provide even more than what's expected."
Natalie wraps up by saying she is grateful to be apart of something so crucial for the TLC community:
"I have an opportunity to be apart of something that is making a difference in people's lives around the world. Knowing that I am making a difference fuels my hunger to continue to grow personally and professionally so that I can continue to contribute to the success of Total Life Changes."
About Total Life Changes
Total Life Changes (TLC) is a direct selling company offering a diverse product portfolio of health and wellness products. Founder and Chief Vision Officer Jack Fallon created TLC seventeen years ago with a single product: NutraBurst®. Since that time, TLC has continued to develop weight loss and wellness products matched with an attractive hybrid binary compensation plan.
This allows Life Changers of TLC to be rewarded quickly for introducing new customers to its products and business opportunity. Find out why so many are saying, 'It really is different over here.' For more information, please visit www.totallifechanges.com
Recommended Distributors Total Life Changes