Total Life Changes Names Craig Cole as Director of Public Relations
October 27, 2020
By Nicole Dunkley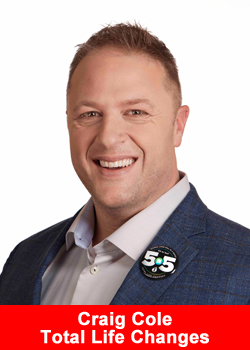 Total Life Changes (TLC) has been a powerhouse during 2020. And the positive momentum never stops. As more and more new offices and employees are added, the need for a voice for the global and local community grows.
Craig Cole, former Director of Labor Relations, rose to the occasion. He expressed his excitement and readiness to take on this Director of Public Relations position:
"I didn't know that I would love it so much. I am an extreme people person; I love interacting with people, and I love to have face-to-face communication. I love to talk about Total Life Changes's past and present. I want to show others how it started and the vision behind it all. Government Relations and Public Relations is a perfect fit for me as a person."
Craig Cole relays his mission statement, saying he is an ambassador for TLC in the eastern Michigan area and the United States as well:
"I help build relationships with charitable organizations, local leaders, and government officials and connect those officials to the TLC family. Our goal is to build Eastern Michigan and embrace the communities. So many people don't know about us yet. I want to embrace the surrounding neighborhoods. On the internal side, I offer positive guidance to the corporate team and the Life Changer."
Craig's favorite part about being a Director of Public Relations is developing relationships with local organizations:
"The interaction that I have with the community and being able to let people know that we are more than just a direct selling company. We are a company with so many core values, and our mission is to embrace these communities and let them know we are here to help. Jack Fallon (CEO) has always been the type of person that gives back, and that's something that I want to spread throughout the communities."
Craig is working hand in hand with a charity called Pay It Forward, an organization founded in 2015 that supports underprivileged children in Macomb and St. Claire County. Building up the youth is vital for Total Life Changes to thrive and create a legacy. TLC plans to help this organization out with their Coat Drive on November 21, 2020.
"We want to use our platform to spread the word about and for the Pay it Forward community foundation. We have to be part of this; we can't let underprivileged children go without. So, putting our finger on the pulse is so important. We must let the surrounding communities know that Total Life Changes supports them and is here long term."
About Total Life Changes
Total Life Changes (TLC) is a direct selling company offering a diverse product portfolio of health and wellness products. Founder and Chief Vision Officer Jack Fallon created TLC 17 years ago with a single product: NutraBurst®. Since that time, TLC has continued to develop weight loss and wellness products matched with an attractive hybrid binary compensation plan.
This allows Life Changers of TLC to be rewarded quickly for introducing new customers to its products and business opportunity. Find out why so many are saying, 'It really is different over here.' For more information, please visit www.totallifechanges.com
Recommended Distributors Total Life Changes