Chrisjan Peters From The Netherlands Achieves Vice President Rank At Healy
November 24, 2020
By Team Business For Home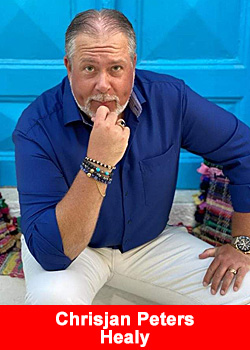 For 20 years, Chrisjan Peters had only one thing on his mind: work. It wasn't unusual to find the architect and real estate developer putting in an 80-90 hour week. He lived to work.
Today, his life looks very different. About 12 years ago, he embarked on his first network marketing business. Thanks to the advice of his mentors and his strong work ethic, he quickly attained the highest positions in each company he joined.
Chrisjan joined Healy World in 2019, and within a very short period, he advanced in rank. After only one year, he qualified as a Vice President.
To what does he attribute his success? Chrisjan can keep it simple. He can communicate Healy's value quickly, precisely and clearly. These characteristics secured him the position of head coach in the sales organization of Senior President Georg Döller.
Through his work as a network marketing coach, Chrisjan has helped thousands of people around the world upgrade their lifestyle with better health and more time, financial and emotional freedom, stability and security.
Even COVID 19 could not stop him. He took advantage of digital technology to connect with people.
His sales shot up and his team grew to 20,000 sales partners.
Success does not come by chance‒it requires a plan. Chrisjan Peters adheres to the following plan:
Create a functioning system
Make it independent of your abilities
Duplicate it.
Don't focus on your own goals
Focus on the wishes of your team members
Make sure they support you.
It's a plan that anyone can use to follow in Chrisjan's footsteps, even if those footsteps seem too big at first.
About Healy
Healy is the leading provider of wearable wellness technology for the Direct Selling Industry.
Healy is a subsidiary of the internationally operating TimeWaver group. Our common vision is that all people should have the opportunity to live a holistically healthy life. Utilizing Information Field technology, over 2,000 doctors, practitioners and other therapists have used the frequency therapy of the Healy and TimeWaver systems. For more information visit www.healyworld.net
Notice: Healy is a microcurrent medical device that has been cleared by the U.S. Food and Drug Administration for local relief of acute, chronic, and arthritis pain and muscle soreness due to overexertion. Healy also has non-medical applications that use individualized frequencies to help balance your mind and body and relieve stress. Always use your Healy in accordance with its Instructions for Use.
For more information please visit: www.healyworld.net
Recommended Distributors Healy World