Kenneth Blankenship Elevates TLC's Apparel Department
November 11, 2020
By Nicole Dunkley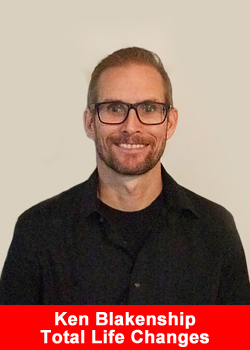 Total Life Changes (TLC) is always offering new apparel for their Life Changers (independent business owners) to wear and promote their brand. And creating all of this awesome merch is not an easy task. So, TLC geared up their four-person apparel team with a new member, Ken Blankenship, who was introduced in July of 2020:
"Total Life Changes reached out to my company on social media to do some print work. And it actually turned into more of a consulting position and helping out in their apparel department."
Kenneth says that initially, he was attracted to TLC because of their local appeal. But once he experienced it in person, he saw how positive and energizing the TLC culture is. His favorite part about being TLC's Apparel & Merchandise Manager is the new products:
"Creating new products and staying innovative is everything. Checking out what new processes we can use to make new apparel and getting the merch from the Marketing Department, and seeing the samples is great. And then getting the product out there to the customers and seeing if they like what we made brings me the motivation to work harder."
Overall, Kenneth aims to bring TLC to a global level and build the brand:
"I want TLC to have a huge global brand, with active wear and custom products. The go-to company for apparel and merch, and not just in-house. I would like to see us expand and branch out to other small businesses and give them the chance to use our skills and our knowledge to grow."
Kenneth looks forward to the future of apparel and teases some new merch ideas:
"I want to get some new active wear pieces started. And we have some new products for the holidays. We are tightening up some of our department processes because we want to provide the best quality product. We aren't rushing anything, and we want to re-evaluate our goals and strive for the best merch. We can't wait to take it to the next level this upcoming year, and we want everyone to be wearing our TLC brand."
About Total Life Changes
Total Life Changes (TLC) is a direct selling company offering a diverse product portfolio of health and wellness products. Founder and Chief Vision Officer Jack Fallon created TLC 17 years ago with a single product: NutraBurst®. Since that time, TLC has continued to develop weight loss and wellness products matched with an attractive hybrid binary compensation plan.
This allows Life Changers of TLC to be rewarded quickly for introducing new customers to its products and business opportunity. Find out why so many are saying, 'It really is different over here.' For more information, please visit www.totallifechanges.com
Recommended Distributors Total Life Changes