Total Life Changes Releases Revolutionary NutraBurst Samples
November 4, 2020
By Nicole Dunkley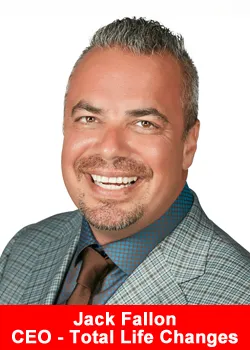 Total Life Changes (TLC) opens another exciting TLCHQ Facebook page live broadcast on October 29, 2020, with a "BREAKING NEWS" headline. TLC just released a Trial Size NutraBurst® sample that is TSA approved.
Chief Vision Officer Jack Fallon exclaims his excitement for NutraBurst® samples:
"What we're about to do, if you think back to the basement days, we've wanted to do for 20 years. This is a very emotional time, as well as a historic time. We know how this is going to change all of our Life Changers and the way they do business now and in the future and for years to come. We're going to change the way people consume something that's our number one product."
NutraBurst® is TLC's liquid multivitamin and flagship product. In 1999, Jack Fallon started to formulate NutraBurst®, and he finally had someone support and believed in him and received an offer of 5,000 units of product on consignment.
Jack began selling NutraBurst® out of the back of his trunk at Ford Motor Company, where he worked full time. His vision grew, and he soon started his own company called Total Life Changes, where NutraBurst remains a hero product over 20 years later.
COO John Licari reflects on the past and where TLC is currently positioned:
"As I look back on where this all started, it began with one product. A product that you guys all know and love, a product that many of you call "liquid gold". And it's still here today and is still celebrated."
Jack wraps up the broadcast, saying that these samples are going to change the way people consume products:
"I think timing is everything. I think we are going to blow this out of the water. I think it's going to go viral very quickly…To me, it's an extraordinary time, but I think it's more than a sample. I think it's the way that people are going to consume TLC products. Now you can carry this, and you can go around the world and share it globally."
About Total Life Changes
Total Life Changes (TLC) is a direct selling company offering a diverse product portfolio of health and wellness products. Founder and Chief Vision Officer Jack Fallon created TLC 17 years ago with a single product: NutraBurst®. Since that time, TLC has continued to develop weight loss and wellness products matched with an attractive hybrid binary compensation plan.
This allows Life Changers of TLC to be rewarded quickly for introducing new customers to its products and business opportunity. Find out why so many are saying, 'It really is different over here.' For more information, please visit www.totallifechanges.com
Recommended Distributors Total Life Changes