Total Life Changes Wraps Up A Groundbreaking Virtual International Event
November 20, 2020
By Nicole Dunkley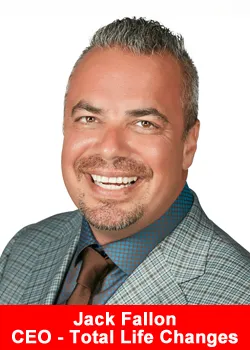 Total Life Changes (TLC) is dedicated to providing exceptional experiences during its events, even with challenges brought about with COVID-19. The executive team came together and ensured that this one-of-a-kind Virtual International Event would be a success.
"Our original itinerary was to host the International Believe Tour event in Indianapolis, Indiana. We were expecting over 2,500 Life Changers (independent representatives of TLC) from all over the world to participate in a three-day event of training, recognition, and awards. We knew earlier this Spring that it would not be feasible to host a live event with such a large audience. So we decided to create four virtual events to accommodate English, Spanish, French, and Russian speaking audiences," says Director of Events, Tricia Crawford.
The video introduction of the English Main Event rolls, announcing, "In 2019, we made you feel it. In 2020, we are going to make you BELIEVE IT," and the event begins with Chief Vision Officer Jack Fallon igniting the iconic BELIEVE 2020 event torch. COO John Licari enthusiastically jumps on stage and delivers a warm and welcoming message:
"Believe! That is the name of the event, that is the name of the weekend! The name of our tour this entire year, it's about believing! Hopefully, today, if you don't believe in TLC yet, something you hear or something you feel will allow you to believe. Because once you start to believe in what we are trying to accomplish, your life will totally change."
TLC events are unique and full of engaging segments that celebrate the accomplishments of Life Changers, which are TLC's independent business owners. One of the main events that always sparks inspiration and motivation is the Transformation Contest, which highlights individuals who have used the TLC products, improved their diet, and increased their exercise level to create a total life change.
The contest winners for the English main event was Shakeila and Shandrieka Powell, a sister duo who powered through and improved their health despite the odds stacked against them. Shandrieka is an entirely selfless and caring guardian and sister to Shakeila, who has downs syndrome. The sisters are Jamaica natives who moved to New York and found that their big-city diets were not the best. Shandreika found out about TLC through Facebook, and then encouraged her sister to take the original Iaso® Tea, and Shakeila had great success:
"My sister's life changed when she gained a lot of weight, and we tried different things, but she couldn't lose weight. And we were having struggles with her health as well. She couldn't breathe well or walk for long at all. I started my sister off with the brewed Iaso® Tea, and we were doing so well. When she first started taking it, I had to remind her to drink her tea. But, when I showed her the progress video of losing weight, I didn't have to remind her anymore. She will now get up in the morning and ask me for her tea. She will not go a day without it; she loves it. Now she is very confident; she is a brand-new person."
The Virtual Vault was another revolutionary addition to this event. Tricia Crawford highlights the main idea of this vault:
"You can log in, get the knowledge you need, and get trained. But as a bonus, you are rewarded for every video that you watch. You are benefitting yourself and your business by watching these videos, and we're rewarding you on top of that to win one of four Grand Prizes. There is so much value in these trainings."
The English event wrapped up with a $10K raffle, which is drawn at the end of every main event in all four languages. Of course, in usual TLC fashion, they gave even more and raffled off 500 TLC points to 4 winners as well.
With over 20,000 viewers for the main events and 40,000 viewers for the Virtual Vault, it was a hit worldwide, and guests loved every moment of it. Jack Fallon closes the English event by speaking from his heart:
"The most important thing about today is that we got the opportunity to share everything with you, this family community. And that's what TLC is all about: sharing. We want to share with you guys and be with you guys on your journey through life, including your TLC journey."
About Total Life Changes
Total Life Changes (TLC) is a direct selling company offering a diverse product portfolio of health and wellness products. Founder and Chief Vision Officer Jack Fallon created TLC 17 years ago with a single product: NutraBurst®. Since that time, TLC has continued to develop weight loss and wellness products matched with an attractive hybrid binary compensation plan.
This allows Life Changers of TLC to be rewarded quickly for introducing new customers to its products and business opportunity. Find out why so many are saying, 'It really is different over here.' For more information, please visit www.totallifechanges.com
Recommended Distributors Total Life Changes