Category Creator Immuni-Tea From Total Life Changes
December 1, 2020
By Nicole Dunkley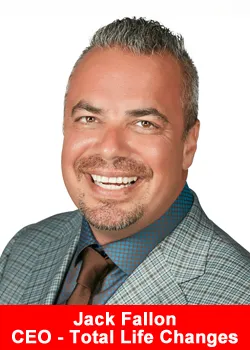 Total Life Changes (TLC) is continuously looking out for the health of its family community and consumers. And something that is key to their success is consumer feedback. Founder and Chief Vision Officer Jack Fallon and Chief Operations Officer John Licari picked their brains to figure out the best product to offer consumers during this whirlwind of a year, and the lightbulb finally glowed brightly. Immuni-Tea, an all-natural herbal defense boosting tea, was their answer to the winter woes we all experience.
TLC rolled up their sleeves and went to work with one of its manufacturers of over nine years to formulate Immuni-Tea. The owner expressed his excitement to work on this product and recalls the creative process of developing this tea:
"I was talking with them, and because of this year and the surrounding circumstances, we were thinking, 'You know, it would be a great idea to put out a defense boosting product.' I went to work, met with subject matter experts in our R&D department and created a blend of multiple ayurvedic ancient Indian botanicals. I combined them with some additional vitamin D3, and vitamin C, some fiber, and natural flavors."
He expresses what sets Immuni-Tea apart from other products is its unique blend of botanicals. Ashwagandha, Triphala Extract, Tinospora Cordifolia Extract, Turmeric Extract, and Ginger Extract are all superfoods that offer a wide range of positive effects on the body's defenses. According to the National Library of Medicine, vitamin D3, dubbed the "sunshine vitamin," offers energizing and defense boosting effects. To tie it all together, vitamin C allows easier absorption of calcium and phosphorus. So, it's no wonder why those essential vitamins were added to this formula.
He exclaims that the consumer will really feel this tea and will definitely enjoy it:
"It's going to support your whole defense system. This tea is going to give your body the tools it needs to become healthier. And it gives you an extra vitamin and nutrition boost. Immuni-Tea really does taste like fresh orange; we designed it to taste amazing. I know TLC's customers are going to say, "Oh wow, I gotta have another cup!'"
CVO Jack Fallon expresses his excitement about the release of Immuni-Tea:
"We don't do what's easy here, we do what's right. And I know our family community is going to love this product; because it's something they need, they can take it daily to feel great and it's going to assist their overall health."
About Total Life Changes
Total Life Changes (TLC) is a direct selling company offering a diverse product portfolio of health and wellness products. Founder and Chief Vision Officer Jack Fallon created TLC 17 years ago with a single product: NutraBurst®. Since that time, TLC has continued to develop weight loss and wellness products matched with an attractive hybrid binary compensation plan.
This allows Life Changers of TLC to be rewarded quickly for introducing new customers to its products and business opportunity. Find out why so many are saying, 'It really is different over here.' For more information, please visit www.totallifechanges.com
Recommended Distributors Total Life Changes