Total Life Changes Brings Hope To Local Restaurants
December 23, 2020
By Nicole Dunkley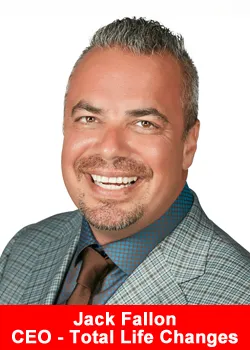 Total Life Changes (TLC) has been fortunate to have positive momentum, even during this challenging time. Customers and Life Changers alike are always looking to improve their overall wellness. TLC was inspired by its employees to reach out to small local businesses this season.
Director of Public Relations, Craig Cole, was the brain behind this initiative and collaborated with CVO Jack Fallon and COO John Licari to develop a plan. The TLC events team got involved as well and concluded that this was a bigger task than they expected.
Starting December 8th, TLC visited twelve restaurants, including some local favorites such as Anchor Bay Pit Stop, Dimitri's Opa, Ken's Country Kitchen, and many more. TLC bought 100 meals per day for their employees and provided $20 off per bill for the general public to use up to $1,000. TLC plans to visit 25 more restaurants to keep the positivity flowing until in-person dining is allowed again in Michigan on January 15th. Craig states that the initiative's goal was to not only affect the restaurant itself but the local community members as well:
"We were also giving an opportunity to residents who might not be able to get out or have the finances to go out and get a restaurant meal. We wanted them to enjoy a meal on us, worry-free."
Restaurant owners commented that since in-person dining has been temporarily banned, their business has been suffering. Their profits have decreased by about 50%, which is a significant amount of money that goes towards rent, kitchen and dining supplies, and employee wages. Craig says that despite these challenges, each restaurant owner was selfless and had a common theme:
"Every restaurant owner I spoke with echoed the same message: they were all worried about their employees more than they worried about themselves. Every restaurant said, 'We're worried about our employees more than we worry about ourselves; we will be okay.'"
Craig shows his empathy for local restaurants, saying that they truly need our help during this time:
"We didn't want to pick the big-box restaurants. We knew that hitting these small mom and pop shops and helping them out was far more important than any other chain restaurant that would get support from their corporate team or has a following of greater numbers."
In the future, TLC aims to give even more back to the local community and knows they do have an impact on the local economy with their employees and corporation in general:
"Our goal is to truly embrace the communities surrounding us. And we know that we are affecting the local community and businesses around us by simply having the number of employees we do have. These employees purchase fuel in the local area, pay rent, buy groceries here. And we feel that we are growing roots in these surrounding communities and just providing economic value."
About Total Life Changes
Total Life Changes (TLC) is a direct selling company offering a diverse product portfolio of health and wellness products. Founder and Chief Vision Officer Jack Fallon created TLC 17 years ago with a single product: NutraBurst®. Since that time, TLC has continued to develop weight loss and wellness products matched with an attractive hybrid binary compensation plan.
This allows Life Changers of TLC to be rewarded quickly for introducing new customers to its products and business opportunity. Find out why so many are saying, 'It really is different over here.' For more information, please visit www.totallifechanges.com
Recommended Distributors Total Life Changes