Total Life Changes Ends 12 Days of Christmas Campaign with Record Sales
December 30, 2020
By Nicole Dunkley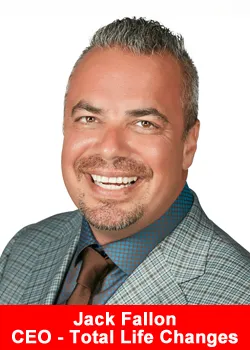 Total Life Changes (TLC) always brings their unique brand of fun and excitement to their live broadcasts, and tradition is key. So in keeping with a well-loved TLC holiday tradition, the 12 Days of Christmas was brought back for another year full of cheer.
TLC's 12 Days of Christmas follows the same format as the traditional Christmas song. From December 4th until December 15th, every deal was announced on the Jack and John live Facebook broadcast by TLC's Headquarters employees. The broadcast stage was decked out in Christmas décor, and the hosts brought their very best energy and joy to put everyone in the holiday spirit.
The first deal was launched by Event Coordinator Madeline Solomon and Customer Service Assistant Manager Nick Navarro. Every day featured a new set of hosts from the TLC headquarters who announced a groundbreaking product deal and the giveaway winners.
John Licari reveals why this year's initiative is more enticing than the 12 Days of Christmas sales in the past:
"You can buy the deal and enjoy a percentage off for that product. But on top of that, anyone had a chance to win our daily prizes."
TLC gave away a monumental total of $12,000 for this initiative. John speaks about how this giveaway can impact the community:
"All of you know that we are in the Christmas season. And you just never know, someone may need this money, or maybe they just need a blessing at this time of year, or they are in a moment of despair. This money will make a difference in someone's life."
Sales for this initiative reached tens of thousands of customers worldwide. These TLC enthusiasts bought not just a product, but they purchased something that would bring them healthy smiles.
Jack Fallon wraps up this initiative, saying it is more than just a sale:
"This 12 Days of Christmas, this is more than just about numbers and sales to us. The bigger picture is we want to offer these products at a price that anyone can afford. We want our customers to be able to get these products for Christmas and enjoy them, and ultimately we know it's going to make a change in their life too."
About Total Life Changes
Total Life Changes (TLC) is a direct selling company offering a diverse product portfolio of health and wellness products. Founder and Chief Vision Officer Jack Fallon created TLC 17 years ago with a single product: NutraBurst®. Since that time, TLC has continued to develop weight loss and wellness products matched with an attractive hybrid binary compensation plan.
This allows Life Changers of TLC to be rewarded quickly for introducing new customers to its products and business opportunity. Find out why so many are saying, 'It really is different over here.' For more information, please visit www.totallifechanges.com
Recommended Distributors Total Life Changes