TLC's 2021 Kickoff Leadership Event Brings Hope to Leaders
January 20, 2021
By Nicole Dunkley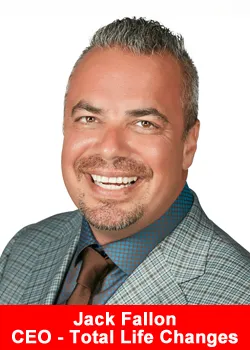 Total Life Changes (TLC) has been preparing all year to release its new product line. Months and months of development, formulations, and creative design were put into this product line to make products of exceptional quality and honest origins. Global ranked leaders and above were introduced to this line on January 13 and 14 and were on the edge of their seats with excitement during this 2021 Kickoff Event.
Chief Vision Officer Jack Fallon opens the event by taking a moment of silence and reflecting on how long it has been since he has seen the TLC leaders in person. COO John Licari showcases TLC's positive momentum, showing the number of samples sent, millions of products ordered, thousands of new ranks, and much more. John then reveals the key ingredients of TLC's success:
"We have built momentum through a lot of people doing a little instead of a few people doing a lot. That's what makes us different, and that's why everyone scratches their head and says, what in the heck do they have going on over there?"
CCO Scott Bania opens the next segment by introducing the Total Life Essentials line, which is a diverse and high-quality line of essential oils designed to awaken the mind, body and spirit:
"This is a whole new category; it is an exquisite line of self-care products. So much time, effort and planning went into this product; we are not trying to create a 'me too' movement. We are trying to create an experience into this line of Total Life Essentials."
Essential oil subject expert and industry expert Mike McLean warms up the crowd by talking about his exposure to essential oils:
"I had an opportunity to work with essential oils at my company, and it took me three years before I used essential oil. I didn't believe in them yet, but a young lady encouraged me to use peppermint oil. Little by little, I noticed I started to feel better, and I got my confidence back. And that opened my eyes, and it became my passion. I wanted to scream from the rooftops about how we can help people with these products, and I want to encourage re-connecting with nature."
TLC sources these essential oils from six countries with gorwers that that specialize in these natural ingredients. The journey of these ingredients from plant to oil and beyond is unique to each oil and oil blend. Mike speaks of the "aromatic lifestyle" and encourages TLC leaders to become fully immersed in these products and share their knowledge and experiences with others.
Day two of the event featured a more in-depth look into each essential oil and its multi-use benefits. Mike created a DIY cleaner, which he dubbed "Mike Mclean's Special Cleaning Solution," and incorporated the proprietary Guardian essential oil blend that features cinnamon and clove oils, which are known to have antibacterial properties.
An informal leadership meeting followed up this segment. John delivered a powerful message, saying that 2020 was a year of progress and improvement:
"We supported as many people as possible, and I think that if we meet halfway, we can do some amazing things in 2021. Continue serving, continue being unique, continue doing whatever we can to attract younger and older people. I know 2021 will be historic."
Jack then concludes the event by offering a thought-provoking and inspirational message:
"I want to thank you for 2020; I want to thank you for being here this weekend. But more importantly, I want to thank you six months from now. I want you guys to share, six months from now, what you started doing today that made a difference in your life. What did you do? Think about that, how can we make a difference in the world? The world needs us now, more so than ever. Don't forget this energy, don't forget this feeling."
About Total Life Changes
Total Life Changes (TLC) is a direct selling company offering a diverse product portfolio of health and wellness products. Founder and Chief Vision Officer Jack Fallon created TLC 17 years ago with a single product: NutraBurst®. Since that time, TLC has continued to develop weight loss and wellness products matched with an attractive hybrid binary compensation plan.
This allows Life Changers of TLC to be rewarded quickly for introducing new customers to its products and business opportunity. Find out why so many are saying, 'It really is different over here.' For more information, please visit www.totallifechanges.com
Recommended Distributors Total Life Changes