Total Life Changes Delivers More (SOI) Smiles On Investment
January 8, 2021
By Nicole Dunkley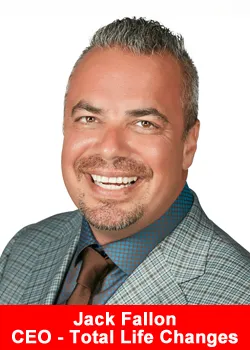 2020 was a whirlwind of a year for everyone. But Total Life Changes genuinely put their customers first and charged through the last quarter with a spirit of giving and gratitude.
October brought cold fall weather to TLCHQ, but their momentum stayed hot. Sampling is always encouraged, but extra rewards were earned during the Shocktober Challenge from October 9 through 31st. Five levels of increasing Sample Credits were awarded to Life Changers who sent ten samples and continued to meet the sampling quota required throughout the challenge. The Shocktober Challenge was mutually beneficial to Life Changers because they can use the earned Sample Credits to sample even more. As a result, a record-breaking number of over 650,000 samples were sent during this challenge.
But there's always something up Jack Fallon's sleeve. So on October 29, NutraBurst® samples were released by popular demand. Customers and Life Changers alike could now share NutraBurst, a liquid multivitamin and hero product to prospects in a convenient packet, which brought something new to sampling prospects.
November welcomed a gracious mindset, and TLC gave much more than what their community expected. Their Virtual International Event on November 13-15 brought recognition, entertainment, and a sense of community during a time where most were staying safe at home. Thousands of people across the globe tuned in online for this one-of-a-kind experience that was available in their native language. Over 20,000 viewers tuned in for the main events, and the community enjoyed every moment.
TLC continued to bring more support on a local scale with a coat drive on November 21, teaming up with Macomb County charity, "Pay it Forward." They ended up crushing the goal of 800 by three times, donating over 2400 coats, and truly made a difference in the surrounding community.
Some holiday cheer and good tidings were shared in December. The 12 Days of Christmas tradition made a comeback from December 4-15 and offered daily giveaways for select products.
Reaching out to the local community again, TLC had their First Annual Tree Lighting, where they sponsored Benny Freeman, a seven-year-old boy with special needs. Benny and his mother enjoyed visiting local parks where his ear to ear smile lit up his face when he was swinging. But the local parks did not have handicap accessible swings, which made it difficult for his mother to place Benny in the swing. TLC raised money for Benny with charity ornaments to fund handicap-accessible swings for local parks.
The community then got ready to run during the Jingle Run 5K on December 23, where thousands of community members participated by running or walking a 5K distance from anywhere in the world.
Overall, TLC has gained 193,478 total customers and 47,106 Life Changers in the fourth quarter, and Life Changers have sent 673,333 samples. Jack Fallon reflects on 2020, saying that it was very different from anything he expected:
" Collectively, as human beings, I believe we all worked through these challenges in our way. Many turned to their spirituality. Others turned to friends and family for support. Unfortunately, some had nowhere to turn, and I reminded our TLC community family, our employees worldwide to continue to keep those individuals in our prayers. Total Life Changes was extremely fortunate; we coordinated efforts with our logistics team and manufacturers and fought to find a way to continue to deliver products, hope, and purpose through a year filled with so many challenges."
About Total Life Changes
Total Life Changes (TLC) is a direct selling company offering a diverse product portfolio of health and wellness products. Founder and Chief Vision Officer Jack Fallon created TLC 17 years ago with a single product: NutraBurst®. Since that time, TLC has continued to develop weight loss and wellness products matched with an attractive hybrid binary compensation plan.
This allows Life Changers of TLC to be rewarded quickly for introducing new customers to its products and business opportunity. Find out why so many are saying, 'It really is different over here.' For more information, please visit www.totallifechanges.com
Recommended Distributors Total Life Changes