Wellness Advocate and Master Distributor Karen Boger Joins Hülsa Wellness
February 24, 2021
By Team Business For Home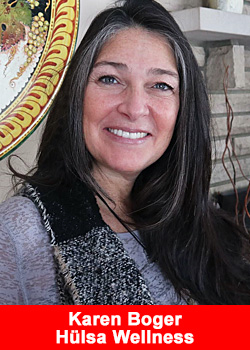 Hülsa®, a premium Critical Cannabinoid™ wellness and beauty company featuring BiBong® formulations, announced that Network Marketing leader and wellness expert Karen Boger has joined their team as a Brand Partner.
Boger is a pioneer and advocate for the hemp industry, globally. She is a well-respected educator for not only the benefits of cannabinoids to the endocannabinoid system, but also in the business of global distribution for financial success in an ever-changing industry.
Boger is an avid student of human potential and enjoys sharing with others the secret of not just doing certain things, but doing things in a certain way, for maximum results. When asked what she looked forward to in joining Hülsa, she said:
"I am excited about the fact that Hülsa is in alignment with our life purpose: to make people more aware of what it takes to live a longer, healthier life. I am intentional about associating with companies and businesses that resonate with that life purpose."
Boger has held Master Distributor positions with multiple large network marketing companies as well as serving on Advisory Councils. On what she finds compelling about Network Marketing, Karen shared:
"The contemporary Network Marketing industry represents the most recent step in the evolution of the free enterprise system. It affords one the opportunity to participate in the global community of humankind across all cultural lines.

More importantly, it allows all people to be in control of their own destiny on many levels, all while personally growing and manifesting personal freedom and greater wellness through many avenues. Modern Network Marketing professionals create a bigger 'pie' so we can all have more."
As a wellness advocate, Boger has consulted for several corporate wellness programs. She was on the Presidential Leadership Council for a global online community. She has conducted numerous recorded training and interviews on radio and television, and even had her own television show co-created with her husband, Dr. Roger Boger. She is a published author, co-authoring 'Babes in Business Suits' and was an original member of the Ohio Medical Chamber of Commerce, and the Ohio Cannabis Institute.
On joining Hülsa, she continued:
"Simply put, to align with Hülsa and Dr. Jenelle Kim with her undiluted, centuries old, and proven BiBong® formulations. Combine that with top industry leaders including David Berck, Josh Ginsberg, Joe Licciardi, Jeff Rogers and others. This is truly the best possible team and leadership."
Dr Jenelle Kim, Hülsa's Chief Educator and Formulator, shared:
"I have known Karen for many years. Her knowledge and passion for wellness is tremendous. I look forward to working with Karen again."
David Berck, formerly a top 500 ranked distributor who serves as Hülsa's President, shared:
"Karen is yet another incredible addition to the Hülsa family. Anyone who meets her can feel just how genuine she is. Her deep reservoir of knowledge in the wellness and network marketing industries combined with her passion for people is in perfect alignment with who we are as a company. I am honored to welcome Karen to the Hülsa family and look forward to many years of fulfilling work sharing wellness and opportunity with others."
This news comes after recent major announcements that JBK Wellness Labs Founder Dr. Jenelle Kim and Network Marketing Expert Jeff Rogers have also joined the Hülsa team.
About Hülsa Wellness
Colorado-based Hülsa Wellness Critical Cannabinoid™ wellness and beauty products are distributed through a direct sales model. Each Hülsa product is meticulously crafted using the highest-quality botanical ingredients infused with CBD-rich Critical Cannabinoids™ to deliver a truly clean wellness experience.
Driven by a deep-seated passion for sharing the benefits of not just CBD, but other essential cannabinoids found in the hemp plant, Hülsa ushers in a new era of self-care with rigorously tested, obsessively transparent, and flawlessly elegant cannabinoid offerings. Hülsa empowers its Brand Partners (direct-sales representatives) with a generous compensation plan, technology-driven tools, and an abundance of resources for their success.
Hülsa products range from daily wellness endocannabinoid support to topical skincare products, sleep aids and more with expanded offerings coming soon.  For more information, please visit www.Hulsawellness.com.