MLM Leader Nuru Radjabu From Rwanda Joins QuiAri
March 18, 2021
By Team Business For Home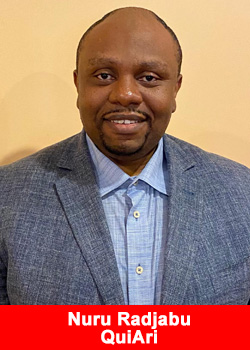 The road to "Rock Star" has been quite a journey for, Nuru Radjabu, who is originally from Rwanda.
After dabbling in multi-level marketing in Rwanda with not much success, he immigrated to America in 2008. He had learned much about the industry and, like many immigrants, hoped a better opportunity awaited him in the U.S. Nuru went to school and became an I.T. Consultant in a Fortune 100 company – a job he still has to this day.
"I never fully left the MLM industry. I'm living an average life at the moment, but I have big dreams. Now that I'm with QuiAri and rising through the ranks, I finally feel like I've found a company that provides me with stability, many resources, and a path to make my dreams come true,"
said Nuru Radjabu.
Nuru was introduced to QuiAri by his brother, who lives in Rwanda. He recognized a familiar face in his brother's upline – QuiAri Promoter, Desire Nongol. Desire is one of QuiAri's most successful Promoters with teams on nearly every continent in the world.
"When I started following successful people and learning their habits, I became successful, too. I have a lot of respect for Desire, so I joined right away. I lost 15 pounds drinking delicious chocolate and vanilla shakes and taking the power-packed Energy tablets. The legends about the Maqui Berry are true.

The Maqui Berry is the world's new #1 superfruit. It helped me look and feel better, I'm sleeping better, and I'm eating less. As I help introduce QuiAri to more regions, I have no doubt, these products will eventually be in every household. I wake up every day, take my Shake and Energy and I'm ready to rock the world,"
said Nuru Radjabu.
QuiAri's newly enhanced Compensation Plan rewards Nuru every time he shares his experience with others and encourages them to purchase products. QuiAri is known throughout the industry for having the fastest-paying Compensation Plan in MLM history – just 5 minutes.
"There is nothing more compelling to Prospects than the idea of "Same Day Pay," getting paid in 5 minutes or less. I've been in a similar situation where I can't wait a month or, at times, even a day before getting paid my commissions. Plus, with 7 different ways to earn, QuiAri provides a legitimate opportunity to get paid quickly and frequently." 
Nuru is referring to "Unlimited Speed Bonuses." Promoters have the opportunity to earn up to 6 months of Unlimited $500 USD Speed Bonuses. There are also Rank Advancement Bonuses, 7-level Matching Bonuses, Lifestyle Bonuses, Cycle Bonuses, and exciting opportunities to earn as your teams grow. Nuru credits Founder and CEO, Bob Reina, for his strong leadership and generosity – something that he believes has been lost in this industry as companies focus on profits over people.
"Bob looks out for the well-being of his team. He is a CEO that's very hands-on. He just loves helping others succeed by mentoring and coaching. Promoters around the world are already hosting sold-out tasting parties and live events. I think in the next 5 years, maybe less, we'll be filling large arenas. We have the right products, the right CEO, and the right opportunity for success,"
said Nuru Radjabu.
About QuiAri
QuiAri is the #1 health and weight loss movement in the world today. Featuring exclusive, breakthrough products (QuiAri Shake and QuiAri Energy) featuring the world's new #1 superfruit, the Maqui berry, people everywhere are losing weight, boosting their energy levels, and improving their health.
What started as an idea has now become a worldwide phenomenon, gaining a passionate following in over 200 countries. But that's not all! We boast an exciting opportunity to promote QuiAri products and earn commissions within 5 minutes after each sale through industry-first, state-of-the-art payment technology. Combining unrivaled products with the fastest payout, the fastest cycling binary, and one of the highest paying compensation plans in the industry, there's no doubt QuiAri is helping people live healthier, happier lives. To learn more, please visit quiari.com.
These statements have not been evaluated by the Food and Drug Administration. These products are not intended to diagnose, treat, cure or prevent any disease.
Income Disclosure Statement
Please note the QuiAri business opportunity offers unlimited income potential. However, QuiAri makes no guarantee of financial success. Success with QuiAri results only from successful sales efforts, which require hard work, diligence, skill, persistence.
Recommended Distributors QuiAri