Total Life Changes Gears up to Get Back on the Road
March 19, 2021
By Nicole Dunkley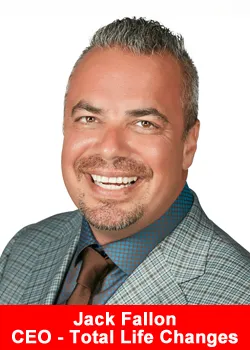 Total Life Changes has always brought the most to their events. And last year was no exception, even when the events were virtual. But as restrictions ease up, in-person events are becoming more widely accepted. The events team wanted to bring a new type of event to TLC and invite a safe amount of people to join them. Director of Events Tricia Crawford explains her vision:
"We initially knew that we wanted to go somewhere warmer where places were opening up safely and had a larger capacity. We've seen several events in Florida, and Florida and Texas are two of our largest states. And we have a large contingent of Life Changers in Houston, which wouldn't require as many people to travel."
Going back to in-person events is refreshing, and Tricia highlights the difference between in-person versus virtual events and the benefits of being there in real-time:
"The biggest difference is for the people that are in the room and the presenters—feeling the energy that everyone has come to know and love at TLC events. Nothing can replace that face-to-face interaction with our Life Changers. We aim to provide the same great experience, whether you're there in person or virtually, but there's a difference of how you feel it, and it's more effective in person."
Tricia reveals some unique features that are being implemented for this event:
"We're adding a Mind Body Spirit experience room. It will be a flow-style exhibit where people can come and visit while they're onsite. Each station will offer different training tools, resources, and items that can be purchased at the store to assist their mind, body or spirit."
Everyone is excited to get back to a sense of normalcy, and this event will be no exception:
"We're all very excited to see how this goes; it's our very first hybrid event. The most exciting part is that we have an opportunity to reach our Life Changers around the world," says Tricia. "We're excited to deliver our Life Changers more than what's expected through this new virtual hybrid experience."
Of course, the safety of guests is TLC's top priority, so Tricia explains the procedures and precautions that will be taken:
"We wouldn't be going back on the road if we didn't think we weren't able to do so safely and responsibly. We chose a property that is following their corporate guidelines. Masks are mandated on the property and in public spaces. We'll be doing temperature checks upon entry, and we're providing guests with a safety kit that has a mask and hand sanitizer, and we will be socially distancing with all seating."
Tricia summaries her thoughts about the upcoming event, saying it can be duplicated:
"I love everything about our TLC events, even the shift to do them virtually. I found them equally rewarding because we were able to connect with so many more people. What we do at TLC is help change people's lives. At our events, you feel that more than anywhere else. You see the reaction of people whose lives have changed; you hear the stories face-to-face, hear how you make people feel, see the excitement on their faces, see the tears, joy, fun, and laughter. And having the opportunity to see an audience face to face and feel that emotion is the part I'm most looking forward to."
About Total Life Changes
Total Life Changes (TLC) is a direct selling company offering a diverse product portfolio of health and wellness products. Founder and Chief Vision Officer Jack Fallon created TLC 17 years ago with a single product: NutraBurst®. Since that time, TLC has continued to develop weight loss and wellness products matched with an attractive hybrid binary compensation plan.
This allows Life Changers of TLC to be rewarded quickly for introducing new customers to its products and business opportunity. Find out why so many are saying, 'It really is different over here.' For more information, please visit www.totallifechanges.com
Recommended Distributors Total Life Changes