Erika Delgado First Colombian to Hit Global Ambassador Rank
April 16, 2021
By Nicole Dunkley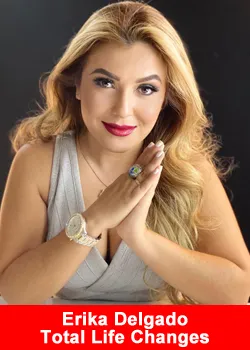 Erika Delgado has always been interested in improving her health and stumbled upon Total Life Changes (TLC) and their products in 2016. Shortly after having success with Iaso® Tea and Resolution Drops, Erika and her husband visited the Colombia headquarters for a business presentation, and she was inspired by Ana Cantera:
"I am a woman of numbers, and if they do not give me numbers, I will not commit to anything. So that day I learned about the TLC compensation plan, I found the video of our beloved Executive Ambassador Ana Cantera and I played it like ten thousand times until I understood. I said, 'This is too good,' so much so that the next day I presented my letter of resignation from the army."
Erika says her why is driven by achieving her own goals and dreams:
"I think it is always important to show yourself that you can go much further, don't settle, always look for the best version of yourself and as a result, everything that's around you always improves. So, I would say that my biggest reason is to change the life of my family, but who did I change for? Myself."
She says that TLC's culture is like a family, and everyone is equal, despite which rank they have achieved:
"The feeling of family is instilled in everything we do, the brotherhood we have in Colombia has a very beautiful culture. We do not suddenly maintain an ego, an envy, or have friction between us. On the contrary, we always work together."
TLC allows her to bring help to people not just in her own country, but around the world. As a Global Ambassador, Erika aims to create six National Directors in the next four months to further her reach and help a bigger market to improve their health and wellness.
She offers advice for those who want to advance their rank at TLC, saying it is dependent upon communication:
"I have a phrase that I use a lot, 'The world changes with your example, not with your opinion.' It encompasses aligning with a sponsor, being focused, and being determined. You can guide your team and say, 'Well look, my experience was this, you can do it and it may happen differently with you.' But it is always easier to simply let yourself be guided, everything is already created, and then it's not like trying to reinvent it, it is just stepping on the footprints they left us."
Erika wraps up by mentioning her team's major mission, 1000 Families, and how she is always inspired by that purpose:
"My sponsor immediately shared the vision of 1000 Families, which gives us a purpose to continue getting up every day, despite our challenges. I think it is the best way to help us, because it gave us a firm purpose, to continue growing, and to help more people."
About Total Life Changes
Total Life Changes (TLC) is a direct selling company offering a diverse product portfolio of health and wellness products. Founder and Chief Vision Officer Jack Fallon created TLC 17 years ago with a single product: NutraBurst®. Since that time, TLC has continued to develop weight loss and wellness products matched with an attractive hybrid binary compensation plan.
This allows Life Changers of TLC to be rewarded quickly for introducing new customers to its products and business opportunity. Find out why so many are saying, 'It really is different over here.' For more information, please visit www.totallifechanges.com
Recommended Distributors Total Life Changes