MLM Rookie Yiki Mui Joins QuiAri Achieves Champion Rank
May 7, 2021
By Team Business For Home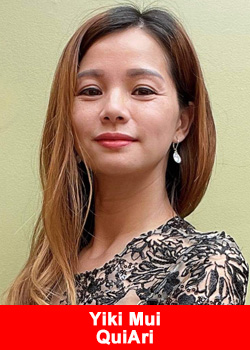 Can someone with decades of life experience, but no previous MLM experience make it in this industry? Yiki Mui, who is originally from Hong Kong, but now lives in Canada, has proven that a good opportunity paired with keen business sense can translate into success. She has recently achieved the high rank of "Champion" at QuiAri after joining less than 6 months ago.
"QuiAri is my first venture into Network Marketing, and I love it! I used to own a clothing boutique and a restaurant. I worked long hours and had little time for my family. I have two children and just felt tired and guilty all the time,"
stated Yiki Mui.
Yiki decided to make a change. Her friend, Promoter Linh Nguyen, had posted about QuiAri on Facebook. She looked happy, healthy, and the products she shared looked delicious.
"My favorite part of owning my own business was helping people. QuiAri seemed like an opportunity where I could still be a business owner, but really make an impact on the lives of people all over the world. Also, I could make my own schedule and be with my family. I have so much happiness in my life right now. My only regret is not discovering QuiAri sooner."
She attributes her success to QuiAri's helpful leadership team, generous compensation plan with industry-first Same Day Pay, and one-of-a-kind products featuring the new #1 superfruit, Maqui.
"I can't say enough good things about QuiAri's Corporate Team. I am new to this industry, but I understand what it takes to run a successful business. I have excellent mentors that have helped me build my team and taught me how to use my previous business experience to my advantage. I'm only a few levels away from QuiAri's top rank of Purple Diamond,"
said Yiki Mui.
Traditional businesses can take months or years to cultivate before achieving success. Yiki was surprised how quickly she rose through the ranks. Her dream is to retire early and secure her family's future. She believes QuiAri is her best chance at making her dreams come true.
"I can say from experience that the products work and are easy to take. Just add water and you've got a yummy shake ready to go. I started losing weight right away because I felt full all the time. I'm currently down 15 pounds and still going. The QuiAri Energy tablets were incredible, too.

I start my day, every day taking these amazing products and found that I had plenty of energy that was long-lasting. The unexpected benefit was definitely my skin, which looks younger and healthier now. My transformation was incredible and it's all thanks to QuiAri. Everyone in the world should be taking these products."
QuiAri Founder and CEO, Bob Reina, is happy to see Yiki's business thriving and hopes that others are inspired by her success.
"No one in the industry has products like QuiAri or a compensation plan that pays out in just 5 minutes. As a previous business owner, she understands how to leverage strengths and encourage others to follow her example. All Promoters at QuiAri follow our simple sample system and 10.4.2 Launch Plan, which is designed to help them achieve our highest rank – Purple Diamond. Yiki is a shining example that the system works.

She has done a wonderful job helping people like her with no previous MLM experience duplicate her success. There's no doubt that, at this rate, Yiki's energy, enthusiasm, and excitement for our brand will help her reach Purple Diamond. She is fired up and wants to be the best of the best,"
stated QuiAri Founder and CEO, Bob Reina.
QuiAri products are available in over 200 countries worldwide. Bob has created an infrastructure that provides Promoters with an ironclad support system. Industry veterans that have joined QuiAri have said that the company operates at a higher level than many multi-billion-dollar corporations. With a wide selection of resources that includes world-class marketing, a state-of-the-art Portal, free mobile app, the best incentives and bonuses in the industry, and more, QuiAri is dominating the health and wellness market as the fastest-growing global home-based business opportunity.
"My team is growing, and I don't believe in beginner's luck. QuiAri has the #1 products, the #1 opportunity, #1 Maqui scientist, and we have the best-tasting shakes in the industry. People want to know how I've grown my business so quickly. There is no secret to my success. Just Try. Love. Share and you'll see results,"
said Yiki Mui.
About QuiAri
QuiAri is the #1 health and weight loss movement in the world today. Featuring exclusive, breakthrough products (QuiAri Shake and QuiAri Energy) featuring the world's new #1 superfruit, the Maqui berry, people everywhere are losing weight, boosting their energy levels, and improving their health. What started as an idea has now become a worldwide phenomenon, gaining a passionate following in over 200 countries.
But that's not all! We boast an exciting opportunity to promote QuiAri products and earn commissions within 5 minutes after each sale through industry-first, state-of-the-art payment technology. Combining unrivaled products with the fastest payout, the fastest cycling binary, and one of the highest paying compensation plans in the industry, there's no doubt QuiAri is helping people live healthier, happier lives. To learn more, please visit quiari.com.
These statements have not been evaluated by the Food and Drug Administration. These products are not intended to diagnose, treat, cure or prevent any disease.
Income Disclosure Statement
Please note the QuiAri business opportunity offers unlimited income potential. However, QuiAri makes no guarantee of financial success. Success with QuiAri results only from successful sales efforts, which require hard work, diligence, skill, persistence.
Recommended Distributors QuiAri