Investview Launches iGenius
June 30, 2021
By Team Business For Home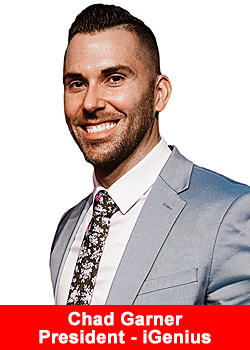 Investview (OTCQB:INVU), a publicly traded company in the United States, announced earlier this year the pre-launch of iGenius. The pre-launch phase was a tremendous success, and iGenius is now fully launched and gaining massive traction.
iGenius is on a mission to help individuals leverage new technologies, learn new skills, and adopt new ways of thinking. With the iGenius platform, anyone can learn how to capitalize on the markets and make smarter financial decisions.
iGenius members get to learn from knowledgeable financial market experts through live and recorded training sessions designed to help everyone from beginners to experts. The education ranges from basic budgeting and money management to complex technical analysis.
One of the most unique and exciting products iGenius offers is its exclusive ndau packages.
ndau is the world's first adaptive digital currency. Like many of the products inside the iGenius ecosystem, ndau is a 3rd party product offering that is not owned by iGenius.
ndau was created 2 years ago by Oneiro Inc. and the ndau Collective, a consortium of over 20 cross-disciplinary experts, developers, economists, and scientists.
ndau is considered by many to be one of the most exciting and unique decentralized finance or defi blockchain projects in the crypto market. Active iGenius members are able to purchase exclusive ndau packages at preferred pricing.
iGenius also gives members the needed tools to start investing in the financial markets on their own. iGenius offers a variety of resources for the forex, equities, and cryptocurrency markets. The tools are designed to help members, regardless of their past experience.
Chad Garner, President of iGenius, said,
"The way people invest, manage, and exchange money is different than it was 5 years ago. Self-directed investing, blockchain, cryptocurrency, and online payment systems like Venmo, ZoomMe, and Cash App, are just a few examples of how new financial technologies have disrupted the old way of doing things.

iGenius provides crucial access to education, research, opportunities, and tools that allow members to stay on the cutting edge of all these changes. We believe that our platform can help people embrace change rather than fear it, and position themselves to capitalize on these powerful innovations."   
In addition to the financial education products, iGenius offers unique lifestyle benefits like travel discounts and a multi-currency account that allows members to spend cryptocurrency around the world.
Christian Crabtree, Senior Director or Sales, said,
"What gets me fired up about the iGenius ecosystem is that I feel we have something to offer everyone. It's no longer just trade ideas and education. From live sessions and market participation products, to cutting edge crypto ai partnerships, and lifestyle benefits, the iGenius suite of products gives everyone the opportunity to Be Brilliant."
Rather than spend large amounts of money on advertising with no guarantee of success, iGenius compensates distributors for successfully sharing their products. The Bonus Plan, which is completely optional, rewards key behaviors like acquiring and retaining customers and developing leadership within one's organization.
About iGenius
iGenius helps members amplify their quality of life by providing leading edge financial tools, education, and opportunities.
iGenius can help you take control of your future and start living brilliantly. For more information about iGenius, visit: www.igeniuslglobal.com.
iGenius LLC is a wholly owned subsidiary of Investview Inc., (OTCQB:INVU), a public company. For more information on Investview and the ability to participate in Investview's growth, please visit investview.com or email [email protected].
Recommended Distributors iGenius