MLM Leader Thu Ta From Canada Joins QuiAri
June 10, 2021
By Team Business For Home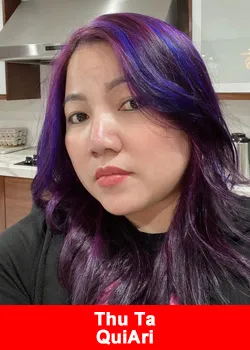 Thu Ta owns a successful nail salon in Canada.
Like many entrepreneurs, she's always looking for opportunities to earn extra income so she can continue doing what she loves most. Thu was scrolling through Facebook one evening when she saw her friend, Yiki Mui, a fellow small business owner, live streaming about her newest passion – QuiAri.
"Champion Promoter, Yiki Mui, inspired me to join QuiAri. She was like me – no previous MLM experience, but a smart business woman. I learned all about QuiAri's one-of-a-kind, proprietary products, countless success stories, Same Day Pay…it just kept getting better and better!

I contacted Yiki immediately and told her about my plan to offer QuiAri products at my salon as a way to earn extra income. Yiki thought it was a great idea, but she opened my eyes to the bigger picture,"
stated Super Star QuiAri Promoter, Thu Ta.
QuiAri products ship out to over 200 countries worldwide, and they are in very high demand around the world. Thu soon realized that she could easily grow her QuiAri business far beyond the walls of her salon.
"I do quite a bit of business in my salon, but I also have teams in place all over the world that are sharing QuiAri products and making a difference in people's lives. I've actually improved my own life as well. It's not just financial freedom, but my health has improved. I feel younger, happier, healthier, and I have lots of energy."
 Thu isn't just a successful QuiAri Promoter, she's also a proud mother, so living a healthy lifestyle is very important to her. Thu really wants to dispel the stereotype of "…the overworked and overtired mother reaching for coffee and energy drinks just get through the day." She believes QuiAri can help people live longer and succeed at parenting.
"Family is everything to me. I have climbed the ranks quickly to Super Star because I want to provide the best life possible for child. In fact, some of the Same Day Pay, that's commissions paid in 5 minutes, that I've earned is going towards fun family vacations this year.

I think traveling the world and learning about different cultures is important. There are things you can't learn from a book. You just have to experience them in person and create a life-long memory,"
said Thu Ta.
 QuiAri Founder and CEO, Bob Reina, completely agrees that the QuiAri opportunity is a great solution for parents looking for more flexibility and extra income.
"There are after-school sports, homework, field trips, birthday parties, doctor's appointments…and they are all equally important. It's almost impossible to hold a 9-to-5 job and not disappoint your kids at some point. QuiAri gives people the opportunity to be in control of their schedule.

You choose your own hours, can take unlimited "working" vacations and sick days, and have lots of resources at your disposal to help you succeed. That's not even including a support system designed by a team of industry leaders with a combined 150 years of MLM experience,"
said QuiAri Founder and CEO, Bob Reina.
 Thu said that her QuiAri family is like her second family. She plans on achieving QuiAri's highest rank of Purple Diamond so she can devote 100% of her time with her family.
"Realistically, I will never quit QuiAri once I have accomplished all of my goals. I enjoy helping people, and that's not something that would disappear once I have complete financial freedom.

I'll always want to help people improve their health, earn extra income, and provide an opportunity to travel the world. Everything about QuiAri fits my definition of 'living the dream,"
said Thu Ta.
About QuiAri
QuiAri is the #1 health and weight loss movement in the world today. Featuring exclusive, breakthrough products (QuiAri Shake and QuiAri Energy) featuring the world's new #1 superfruit, the Maqui berry, people everywhere are losing weight, boosting their energy levels, and improving their health. What started as an idea has now become a worldwide phenomenon, gaining a passionate following in over 200 countries.
But that's not all! We boast an exciting opportunity to promote QuiAri products and earn commissions within 5 minutes after each sale through industry-first, state-of-the-art payment technology. Combining unrivaled products with the fastest payout, the fastest cycling binary, and one of the highest paying compensation plans in the industry, there's no doubt QuiAri is helping people live healthier, happier lives. To learn more, please visit quiari.com.
These statements have not been evaluated by the Food and Drug Administration. These products are not intended to diagnose, treat, cure or prevent any disease.
Income Disclosure Statement
Please note the QuiAri business opportunity offers unlimited income potential. However, QuiAri makes no guarantee of financial success. Success with QuiAri results only from successful sales efforts, which require hard work, diligence, skill, persistence.
Recommended Distributors QuiAri