Bibiana Lichoro From Kenya Crowd1 Top Leader Will Never Forget Her Roots
August 16, 2021
By Team Business For Home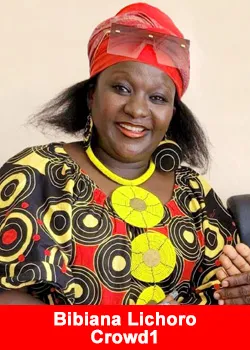 How does a woman from a village in Kenya rise to the top of the MLM mountain? Just ask Bibiana Lichoro, who holds Senior President* status with Crowd1, one of the fast-growing leaders in the company. She'll tell you that it's down to passion and drive – and she wants you to know that you can do it too.
We sat down with Bibiana to pick her brain and learn how success is within anyone's grasp.
We asked Bibiana to tell us a bit more about her background.
"I come from very humble beginnings. I am the 8th of 10th children and, because of poor eyesight, I was never able to complete my schooling. But I believed in myself, and I had a very strong feeling that one day I'd be someone".
At some point in her life, Bibiana even found herself homeless. For anyone, this would be a major setback and incredibly hard to come back from. But Bibiana Lichoro isn't just anyone, and with hard work, grit and determination – not to mention copious amounts of passion and belief in herself – she was able to bounce back.
"I then discovered Crowd1. That was the turning point in my life and changed me for the better in an incredible way".
An acquaintance had approached her and introduced her to Crowd1, and she recognised the power of this company immediately. With a drive second-to-none, Bibiana started telling people her story and recruited more and more. She worked night and day, her passion always on display.
Today, she has directly impacted more than 500 people's lives, enabling many of them to buy their own houses – something none of them thought possible before they joined Crowd1. Bibiana holds the Senior President* status within Crowd1. To be able to attain and get paid on that level, Members need 20 activity points minimum and 100 million points in balance for qualification.
What is the secret to her success?
"Hard work, not shrinking from any challenges, and persevering until you get a 'yes'. Be an example through your success. Always have a goal that you need to achieve, and never forget why you are doing this in the first place".
Bibiana certainly hasn't forgotten where she came from. Her biggest joy has always been being able to buy her mother a house to thank her for all her support through the years.
She is known to her community as the "Nightingale of Kenya", someone with a real heart for upliftment and giving back. Bibiana is thankful for everything her work with Crowd1 has brought her.
About Crowd1
Crowd1 is an established online social community and marketing company registered in Dubai, UAE, with a unique and empowering vision to unleash the opportunities provided by global marketing.
At Crowd1 we are proud to be democratizing access to the next revolution in the digital space, online crowd marketing. With an extensive and swiftly expanding community of passionate and highly motivated entrepreneurs, we aim to make Crowd1 the pre-eminent name in online marketing. For more information please visit www.crowd1.com