DuoLife Reports 75% Revenue Growth
August 27, 2021
By Team Business For Home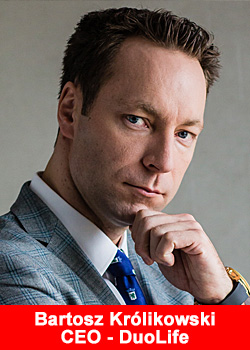 DuoLife is a joint-stock company founded in Poland in 2013, operating globally on 52 markets and territories.
The company is getting ready to enter the Stock Exchange, and in its development plans for 2020-2025, it foresees the opening of new markets and its turnover increase in Europe, Asia and North America.
The international meeting of the DuoLife Community: Today for Tomorrow | Celebration Weekend was held on August 21-22  in the most modern and the largest sports and entertainment arena in Poland in Gliwice.
2,000 DuoLife Club Members from all over Europe celebrated their successes and shared their experiences with huge enthusiasm.
The organization of the event was a real challenge. To meet extremely strict regulations and requirements related to the current sanitary regime, DuoLife S.A. leased a facility that can accommodate over 17,000 people just to gather in one place the maximum number of 2,000 participants, in accordance with today's restrictions.
During the event, DuoLife S.A. summed up its numerous achievements in these challenging times. Between February 2020 and August 2021, the company saw its turnover increase by 75%.
International Leaders appeared on the stage, sharing their remarkable success stories and practical knowledge on how to professionally and effectively move in business.
The company's co-founders presented DuoLife objectives and development plan for the next 5 years, wellness & beauty experts introduced the latest scientific research and trends in the industry, and recognized specialists in the field of personal development provided many valuable tips to all those who are looking for answers on how be successful in your personal and professional life.
The event was attended by Dawid Tomala – Tokyo Olympic champion in 50 km sports walking. As a DuoLife Club Member, Dawid shared his story and told how DuoLife dietary supplements help him in his hard trainings and achieving such great results.
DuoLife supports 24 active and former athletes, including Patryk Dobek, an Olympic bronze medalist from Tokyo in the 800 m run, who regularly uses DuoLife products as the company's brand ambassador.
In terms of supplementation and a healthy lifestyle promotion, Duo Life cooperates with 8 sports clubs and associations in Europe.
About DuoLife
DuoLife is a joint-stock company founded in Poland in 2013, operating globally on 52 markets and territories, based on the proprietary softmarketing® business model.
DuoLife Club members operate basically all over the world, and the company's products are shipped not only to European, but also Asian, North and South American countries.
The company owns two factories, where under the watchful eye of the Research and Development Department and the Scientific Council, new products lines are being created. One of them produces supplements in liquid and capsule form, the other works on cosmetics.
The uniqueness of DuoLife products is based on the ingredients of the highest quality. The performance of many of them has been confirmed by numerous clinical trials. The DuoLife product portfolio contains over 50 products.
Currently, the company is getting ready to enter the Stock Exchange, and in its development plans for 2020-2025, it foresees the opening of new markets and its turnover increase in Europe, Asia and North America. For more information please visit www.myduolife.com
Recommended Distributors DUOLIFE