Network Marketing Leader Wendy Navarro Joins QuiAri
August 4, 2021
By Team Business For Home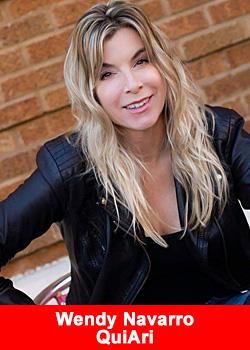 What would you give up to have more time freedom?
Wendy Navarro from Florida, USA was a top 1% Sales Executive at a large payroll company. She was married, making good money, enjoyed helping her many clients, however, she did work long hours and really wanted to start a family. After conquering many difficult health challenges, she was blessed with a beautiful baby boy.
Unfortunately, her son was born with several serious medical conditions that required round-the-clock care. Wendy decided to leave the payroll company so she could spend more time at home with her son. Her Mom, who was a Sales Professional, suggested she give Network Marketing a try.
Wendy grew up around the business and knew it would provide her with an opportunity to work from home. As it turns out, Mom was right. Wendy joined a health and wellness MLM and fell in love with the flexibility and freedom.
Ultimately, she became one of the highest earners in the industry. Today, her son is still her "why" and a major influence on all of her life decisions. In fact, it led her to QuiAri.
"I needed to start thinking about my son's long-term future and setting him up to be financially free. The QuiAri opportunity will make that happen for me. I'm an admirer of the work QuiAri Founder and CEO, Bob Reina, is doing to revolutionize our industry.

He is a generous, leader that grows his company through compassion.

Promoters are paid commissions within 5 minutes after each sale because he knows people nowadays can't wait to get paid.

He's made QuiAri's groundbreaking products more accessible to all by launching in 200 countries in less than 2 years.

He's making all of the right business decisions and understands that the power of a company is determined by the strength and loyalty of your Promoters. We're without a doubt going to be the next multi-billion-dollar brand,"
stated Wendy Navarro.
Wendy wholeheartedly believes in QuiAri. In fact, she doesn't just promote QuiAri products, she's also a product-of-the-product. Due to her health conditions, Wendy isn't allowed to take many health and wellness products, but she is able to take QuiAri.  She said she immediately felt the difference. 
"When I tried it…I was speechless. I really hate all protein shakes, but this doesn't taste like anything you've ever tried.

The vanilla is kind of like cake batter, and the chocolate was really good too. I felt the difference immediately and it helped my skin look smoother, younger, and healthier. I'm even sleeping better. It's amazing. After just a few weeks, I was down a full dress size."  
Wendy's passion for QuiAri products is helping her grow her business to all new heights. Immediately after joining QuiAri, her friends and family wanted samples. Then their friends wanted samples and so on. Interest in QuiAri has been so high that she's actually teaming up with another QuiAri Promoter, Sabra McCraw, to host a QuiAri Boot Camp in October.
"Things move very fast here at QuiAri.  My business is generating a lot of momentum and I've started to climb the ranks. My biggest regret so far is that I didn't discover QuiAri sooner.

I had no idea it would have such a dramatic impact on my life. I have big dreams. I'd love to travel around the world with my son. I'd also like to help my extended family and make sure they never have to worry about money for the rest of their lives. Everyone here has the same opportunity to change their lives.

I'm willing to do whatever I can to help them succeed. That is what inspired our Boot Camp. We have fun, share tips on building our businesses, and learn about the resources that QuiAri provides to us for free. It's a great way to get to know everyone on your team on a more personal level,"
said Wendy Navarro.
QuiAri's resources are among the best – and most helpful – in the entire industry. Promoters receive a 10-4-2 Launch Plan to help build their business, a Compensation Plan, a Business Opportunity Presentation, Social Media templates, a state-of-the-art Promoter Portal, mobile app, plus the world's first real-time Free Tour Marketing System (coming September 1st).
All are provided at no charge to Promoters. Bob Reina is personally committed to the success of his Promoters worldwide. He hosts weekly training sessions to help keep everyone connected, informed, and inspired.
"I can tell you that my team is excited, motivated, and ready to conquer the world. We have the #1 CEO in the business leading us, the #1 products containing the world's #1 superfruit, and the #1 Maqui scientist on our side. In 5 years, I see QuiAri making more unconventional, history-making moves, and entering new markets. I feel really good about the direction we're headed,"
said Wendy Navarro.
For now, Wendy feels more comfortable than she has ever been at any Network Marketing company. She feels like there is nothing holding her back from achieving her dream lifestyle.
"I find it amazing how much you can accomplish when everyone on your team works together towards a common goal. In the end, we all win. Lives are changing and we're committed to creating the most success stories in the industry. This is the way Network Marketing should be,'
stated Promoter Wendy Navarro.
About QuiAri
QuiAri is the #1 health and weight loss movement in the world today. Featuring exclusive, breakthrough products (QuiAri Shake and QuiAri Energy) featuring the world's new #1 superfruit, the Maqui berry, people everywhere are losing weight, boosting their energy levels, and improving their health. What started as an idea has now become a worldwide phenomenon, gaining a passionate following in over 200 countries.
But that's not all! We boast an exciting opportunity to promote QuiAri products and earn commissions within 5 minutes after each sale through industry-first, state-of-the-art payment technology. Combining unrivaled products with the fastest payout, the fastest cycling binary, and one of the highest paying compensation plans in the industry, there's no doubt QuiAri is helping people live healthier, happier lives. To learn more, please visit quiari.com.
These statements have not been evaluated by the Food and Drug Administration. These products are not intended to diagnose, treat, cure or prevent any disease.
Income Disclosure Statement
Please note the QuiAri business opportunity offers unlimited income potential. However, QuiAri makes no guarantee of financial success. Success with QuiAri results only from successful sales efforts, which require hard work, diligence, skill, persistence.
Recommended Distributors QuiAri