Total Life Changes Puts their Mind, Body, and Spirit into Orlando
August 4, 2021
By Nicole Dunkley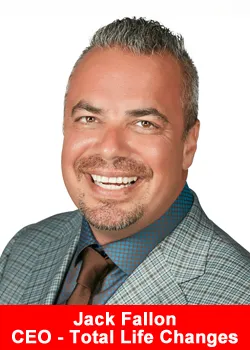 Total Life Changes (TLC) put on another show-stopping performance at their Mind Body Spirit Orlando Event on July 22nd through 24th. Thursday's event included relaxing essential oil training by oil guru Mike McClean, aka "Cowboy Mike." Friday's event focused on the bigger picture: business training, reaching international markets and even tax planning.
Saturday was the most exciting day, as the Main Event rolled in with CVO (Chief Vision Officer) Jack Fallon and COO (Chief Operating Officer) John Licari and the rest of the corporate team. International Business Owners, dubbed "Life Changers," were welcomed via the Virtual Audience, waving flags and representing their respective countries. From Associate to Grand Ambassador, all ranks were celebrated with cheers, applause and happy tears.
The Transformation Story Segment is what everyone looks forward to at TLC events. Winners are chosen to share their health journey with TLC, and Orlando's first winner was Tiffiney Booker. She is a proud mom of five who completely turned her life around in October 2019, fighting her negative mindset, and lost a total of 60 lbs. Tiffiney spoke from her heart:
"There were days I couldn't get out of bed and walk. And people would say, 'Why is she dancing? Why is she celebrating?' But at my age, to have my child help me that broke my heart. I said I have to continue and push forward. I had to remember what my 'Why' was, my children.' I not only transformed my body, but my spirit was also transformed, and transformation is elevation."
The next winner was Gwendolyn Branch, who came onto the stage with spectacular energy, singing, dancing and getting the crowd fired. Before TLC, she felt broken; she gave up on her image and felt sluggish. She recalled her childhood and how she always had issues with her weight since middle school. Gwendolyn summarized how she felt:
"I don't jump in vain; I jump because now I can. There was a time I wasn't? grounded; I jump out of victory. Don't quit; keep going; you're about to run into your destiny!"
The next segments were the Core Value Awards, which are connected to TLC's 7 Core Values. The winners were Carla Mass, Danissa Cipriani, Alexander Morales Perez, Jay Pratt, Carmen McClinton, Sharmane Miller, and Marci Millsap. Each shared their personal story and were celebrated by their teams and TLC's corporate squad too.
Kairee Douglass was remembered as a Total Life Changes AV legend, and donations from the event will go to a Memorial Scholarship for South Lake High School to honor Kairee's passion for photography and video. Jack Fallon shared his thoughts:
"He was a calm spirit, no matter if I was trying to get things done. I would look at him because he was so calm. The moments that you share with someone who passed on, I'll remember them forever. We will continue to recognize him forever."
Guest speaker Gary Brecka broke down the effects of Delgada and NutraBurst® on a scientific level, citing credible studies. Gary concluded that there is one key ingredient to becoming successful, and that is wellness:
"In 22 years of research, I have seen the word 'well-being' 5 times. Well-being is the root of wealth. And I started to think about what this meant. As a scientist and researcher, I had heard about this universal law of attraction. I disbelieved it, but one day I studied the law of gravity, constructive interference. Which means you can get energy from conversation and touching someone else's life."
The last surprise of the event was Grand Ambassador Stormy Wellington, who had earned her own TLC branded Jeep Rubicon and customized ring. Jack Fallon addressed her and the other Ambassadors with some kind words:
"They have gone through so much pain, suffering, tears, joy. And that means their passion for you is never going to stop."
About Total Life Changes
Total Life Changes (TLC) is a direct selling company offering a diverse product portfolio of health and wellness products. Founder and Chief Vision Officer Jack Fallon created TLC 17 years ago with a single product: NutraBurst®. Since that time, TLC has continued to develop weight loss and wellness products matched with an attractive hybrid binary compensation plan allowing Life Changers of TLC to be rewarded quickly for introducing new customers to its products and business opportunity. Find out why so many are saying, 'It really is different over here.'  For more information, please visit www.totallifechanges.com
Recommended Distributors Total Life Changes