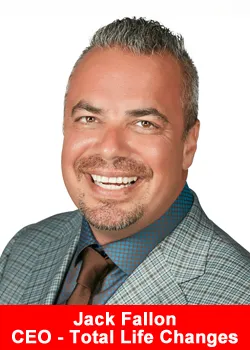 Total Life Changes Announces Free 5-Day Health Conference
September 3, 2021
The My Health Matters Challenge is a free five-day virtual health conference to encourage healthier habits and lifestyles. Bringing health to the forefront of everyone's mind is the goal of Total Life Changes (TLC). Millions of people have been restricted to working from home in the past two years. Total Life Changes is launching a ground-breaking initiative to end that sedentary cycle with the My Health Matters Challenge. 
This free 5-day health conference will get hundreds of thousands of people motivated and inspired to take their health and fitness into their own hands and get going on a better future for themselves and their families too. As quoted from the #MyHealthMatters Challenge website:
"How often do you tell yourself: tomorrow? 'Tomorrow is the day I take control of my future'… Sound familiar? But that tomorrow stays exactly where it is, in the future. DON'T PUT IT OFF ANY LONGER."
TLC aims to provide major value, with guest speakers like former NFL wide receiver and renowned speaker Trent Shelton, the inspiring young Nick Santonastasso, #1 Female Network Marketer Stormy Wellington and many more. Each day will focus on a new topic to keep the Mind Body and Spirit involved in every process. Also provided is access to the #MyHealthMatters ​Facebook Page for personalized support and homework to implement what you learned during the course.  
What is unique to this challenge is that it is entirely free to anyone, and the experience begins on September 13, 2021. TLC's CVO Jack Fallon speaks in detail about it:
"This is the door opening to the world; TLC is inviting the world to be a part of this, it's going to be amazing, and you're going to learn so much!"
The focus on improved health and fitness doesn't end after this 5-day conference. Every participant will be invited to join a 15-day challenge followed by a 30-day challenge, so they can continue to implement all of the healthy habits they were introduced to.
Anyone and everyone is invited to participate in this FREE 5-day health conference; no strings attached. Sign up now HERE.
About Total Life Changes
Total Life Changes (TLC) is a direct selling company offering a diverse product portfolio of health and wellness products. Founder and Chief Vision Officer Jack Fallon created TLC 17 years ago with a single product: NutraBurst®. Since that time, TLC has continued to develop weight loss and wellness products matched with an attractive hybrid binary compensation plan allowing Life Changers of TLC to be rewarded quickly for introducing new customers to its products and business opportunity. Find out why so many are saying, 'It "really is different over here.' For more information, please visit www.totallifechanges.com
Disclaimer: While we have used our reasonable efforts to ensure the accuracy of the data used in this website, data should be read as indicative of magnitude rather than exact figures. Business For Home BV has made every attempt to ensure the accuracy and reliability of the information provided on this website.
However, the information is provided "as is" without warranty of any kind. Business For Home BV does not accept any responsibility or liability for the accuracy, content, completeness, legality, or reliability of the information contained on this website. No warranties, promises and/or representations of any kind, expressed or implied, are given as to the nature, standard, accuracy or otherwise of the information provided in this website nor to the suitability or otherwise of the information to your particular circumstances.
Recommended Distributors