BE Announces Its 2022 World Convention In Colombia
October 24, 2021
By Team Business For Home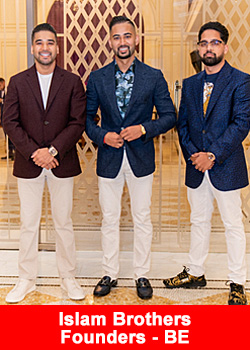 BE anticipates hosting over 14,000 budding entrepreneurs and existing distributors to deliver highly curated resources to supply the entrepreneurial essentials as they focus on their business development and achieve their personal and professional milestones.
After a series of successful events in different corners of the world, BE gears up to deliver yet another massive convention this 9th – 10th April 2022, set to happen in one of the biggest venues in Latin America.
With an extensive line-up of robust training, mastermind essentials on the future of tech, the role of BE Products & Services in the industry growth, immersive sessions on the company's successfully evolving and expanding vision and mission, and so much more, the BE Founders Monir Islam, Moyn Islam, and Ehsaan Islam put forth:
"We couldn't be more excited for the BE World Convention 2022.

Everything we have envisioned, planned, and worked on for the past years will traverse this event and beyond that. We've got mind-blowing news and updates that will change the landscape of the online sphere.

More importantly, this event aims to change the way the whole BE community moves forward in the direct selling industry, bring them to new heights as a distributor, and boost their drive to succeed."
"Our BE community has seen through extraordinary milestones – growing bigger, stronger, and better.

And for 2022's homecoming, our axiom "all roads lead to BE" will remind each one of us of what we have been doing throughout our business to succeed in this industry and elevate ourselves and our community.
What to expect on BE Virtual Convention 2022
World-renowned motivational speakers
Exclusive, valuable strategies and plans from the top leaders' proven success blueprint
Major company updates
Recognition
Massive giveaways!
About BE
BE is a next-generation ecosystem made up of a unique concept of 'Live & Learn' which includes e-learning and travel platforms with a comprehensive set of tools for independent business owners.
The BE ecosystem uses artificial intelligence technology, to offer a decentralized, transparent, and empowering space for people from all walks of life, regardless of their educational or financial background, to build their very own multimillion-dollar business from their smartphone.
For more information, please visit www.berules.com
Recommended Distributors BE