Leen Saif From Palestine Achieves Presidential Ambassador Rank At iGenius
October 22, 2021
By Team Business For Home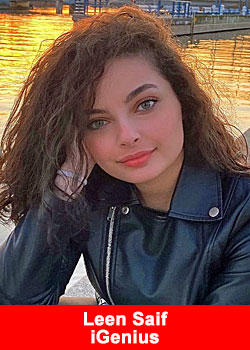 Leen Saif, twenty-three years old, originally from Palestine, did not have a typical upbringing.
After ten different schools, seven different jobs, and immigrating from country to county, Leen and her family finally found their home and future in Canada.
Her family moved quite frequently searching for a place with better opportunities for their future.
A few years ago, Leen immigrated from Jordan to Canada where she began studying media and digital communications at the University level. Leen was a third-year honors bachelor student and worked extremely hard to keep up with school while also juggling work in order to pay her tuition and bills.
Leen said,
"I was able to achieve all my hopes and dreams I came to Canada with, not through my university degree, but through iGenius."
Leen grew frustrated and disappointed with the education system; the education her parents made countless sacrifices for. Leen felt like she wasn gaining as much knowledge as she would have liked or expected, so she voiced her frustrations on one of her social media platforms. Little did she know, she was about to change her life forever.
After posting on her Instagram stories, Leen received a direct message from an iGenius leader suggesting that she learns how to make an income online. Leen considered this a sign, and at a point of desperation, she decided to take a leap of faith and enrolled as an iGenius member. Leen was pulled to iGenius because she was interested in learning and teaching a skill rather than purchasing and selling a product.
Leen said,
"My journey with iGenius has helped me grow and expand my horizons in many different aspects like financial literacy from the services themselves, and personal development from the distributing side of the business."
After Leen enrolled with iGenius, she dove into the iGenius education and learned how to trade online. After seeing positive results, Leen decided it was only right to share this opportunity with her friends and family so they could benefit as well. That's when Leen's network marketing journey started.
Three years later, Leen has grown into a very successful top field leader with iGenius. She credits her success to her leaders and iGenius staff. Leen recently hit the rank of Presidential Ambassador with iGenius and has built a team of thousands of people. One of her greatest accomplishments is knowing that she's helping individuals from around the world learn real life skills through the iGenius platform.
Leen said,
"My belief in the iGenius opportunity keeps growing; it has not dimmed one bit. iGenius has truly been life changing for me and thousands of others around the world who have heard of the platform.

We learn in order to teach, and there is an immense feeling of satisfaction I get from that. I am so grateful."
Some of Leen's first business goals were to launch a team in the Middle East and earn enough income to quit her jobs and become her own boss. Leen put in the hard work, and a year after joining the business, she accomplished both of her goals. With her extraordinary connection and relationship skills, Leen now has thousands of customers in her business from all over the Arab world.
When asked what advice she'd like to give to her peers, she said,
"Always strive for growth. Be a sponge and keep soaking up new information every day. Leverage the knowledge from the market experts who have decades of experience. Their knowledge is in our hands, so use it!
Expect to leave your comfort zone for great success. You're an idol to many coming after you, so make sure you resemble the person you would want them to duplicate in your business."
With the mentorship from top field leaders, and support from the iGenius staff, Leen is currently striving to reach her next goal of impacting the lives of one million people.
About iGenius
iGenius helps members amplify their quality of life by providing leading edge financial tools, education, and opportunities.
iGenius can help you take control of your future and start living brilliantly. For more information about iGenius, visit: www.igeniusglobal.com.
iGenius LLC is a wholly owned subsidiary of Investview Inc., (OTCQB:INVU), a public company. For more information on Investview and the ability to participate in Investview's growth, please visit investview.com or email [email protected].
Recommended Distributors iGenius