MLM Leaders Cuong Nguyen and Nga Ha Join QuiAri
December 10, 2021
By Team Business For Home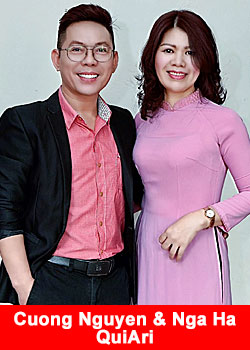 Stressful careers as a University Lecturer and a Beauty Business Owner were taking a toll on the health of power couple, Cuong Nguyen and Nga Ha, who are originally from Vietnam. One day they decided to leave it all behind and put their health and happiness first.
"We joined the Network Marketing industry a long time ago and absolutely LOVE what we do now. It works best for our lifestyle. After reading about QuiAri products and all the incredible testimonials, we were excited to give them a try.

The experience was life changing. We felt better, looked younger, had smoother skin, and even lost weight quickly. Our excitement grew when we discovered the QuiAri opportunity. We have a large network of friends that expands worldwide. If we loved these products, they would, too"
stated QuiAri Champion Promoters, Cuong Nguyen and Nga Ha.
Cuong and Nga started with family first. Soon their mothers, brothers, sisters, nieces, and nephews were all taking QuiAri products and sharing their results with their friends. Having previous experience in the health and beauty industry, Nga wanted to learn more about the active ingredient that was primarily responsible for the nutritional benefits of QuiAri Shake and Energy.
"Maqui, the new #1 superfruit, has the most antioxidant power out of all the other superfruits. QuiAri is the first to introduce Maqui to the international market, and MaquiX®, their proprietary Maqui extract, ensures that you won't find anything like it from other companies.

I took QuiAri products for three months, and it's like I emerged a different person. I lost 4 inches in my waist and went down a dress size. I was so happy I almost cried,"
stated, Nga Ha.
QuiAri Founder and CEO, Bob Reina collaborated with the #1 Maqui Berry expert, Dr. Juan Hancke to help create nutritional products the world has never seen before. Dr. Hancke, who serves as QuiAri's Scientific Advisor, received a $5 million dollar grant from the World Health Organization (WHO) to study the health benefits of the berry.
He discovered that Maqui promotes and supports: 
A Strengthened Immune System
Weight Loss
Increased Energy Levels
A Healthy Inflammatory Response
Anti-Aging
Total Body Cleansing
Healthier Skin
Ocular (Eye) Health
Cardiovascular System Health
Healthy Blood Sugar Levels
After Cuong and Nga joined QuiAri as Promoters, they realized it wasn't just the products that were #1. The Compensation Plan was equally impressive.
"I felt prepared from the very beginning. The Compensation Plan was easy to understand, and I liked that commissions were paid in 5 minutes. I've been in the industry a long time and I've never seen another company with that benefit,"
said Cuong Nguyen
 One of QuiAri's most popular incentives is their Speed Bonus. New Promoters can purchase product packs that include up to 6 months of unlimited $500 USD bonuses. This is also an industry-first incentive only offered by QuiAri, which has enticed many top industry leaders to join the company and reward them for getting off to a fast start.
"Our business began to grow quickly, as we expected. Our teams in Vietnam and Germany exploded first. Now they are exploding over the world as word continues to spread. QuiAri ships to over 200 countries, so the sky is the limit in terms of growth,"
said Nga Ha.
Cuong and Nga give credit to QuiAri's Executive Leadership team, led by Founder and CEO, Bob Reina, With over 150 years of combined MLM experience, they have proven themselves to be a leader in the health and wellness industry.
"When I started QuiAri, I wanted it to be a forever home for Promoters that want to help people and be rewarded for their efforts. We've simplified the duplication process to a point where anyone at any experience level can be successful.

However, experienced Promoters, like Cuong and Nga, can really spread their wings and reach their full potential. Their rise to the rank of Champion happened quickly, and I don't see their momentum slowing down any time soon,"
stated Founder and CEO, Bob Reina.
Achieving the top rank of Purple Diamond is something Cuong and Nga would really like to achieve.
"Our dream lifestyle is within reach, and we'll get there soon, but it's not only about fulfilling our dreams. We want to help change as many lives as possible. We'd like to see everyone on our team achieve Purple Diamond and live the lifestyle they deserve,"
said Cuong Nguyen and Nga Ha.
About QuiAri
QuiAri is the #1 health and weight loss movement in the world today. Featuring exclusive, breakthrough products (QuiAri Shake and QuiAri Energy) featuring the world's new #1 superfruit, the Maqui berry, people everywhere are losing weight, boosting their energy levels, and improving their health.
What started as an idea has now become a worldwide phenomenon, gaining a passionate following in over 200 countries. But that's not all! We boast an exciting opportunity to promote QuiAri products and earn commissions within 5 minutes after each sale through industry-first, state-of-the-art payment technology.
Combining unrivaled products with the fastest payout, the fastest cycling binary, and one of the highest-paying compensation plans in the industry, there's no doubt QuiAri is helping people live healthier, happier lives. To learn more, please visit quiari.com.
These statements have not been evaluated by the Food and Drug Administration. These products are not intended to diagnose, treat, cure, or prevent any disease.
Income Disclosure Statement
Please note the QuiAri business opportunity offers unlimited income potential. However, QuiAri makes no guarantee of financial success. Success with QuiAri results only from successful sales efforts, which require hard work, diligence, skill, persistence, competence, and leadership. Your income will depend upon how well you exercise these qualities.
Recommended Distributors QuiAri