ByDzyne Partners with Indonesian Icon Sharmila Yahya to Launch Sahara-ByDzyne Warung
February 21, 2022
By Nicole Dunkley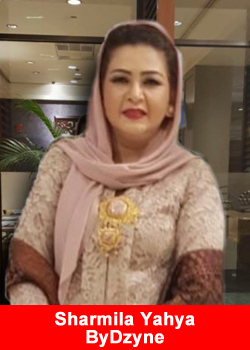 In arguably the biggest industry statement in 2022 to date, ByDzyne is collaborating with Indonesian entrepreneurial powerhouse Sharmila Yahya and unveiling the highly-anticipated Sahara Warung and ByDzyne partnership in Indonesia today. 
The new Sahara initiative—locally known as a 'Friends of the People's Business'—is part of a country-wide program aimed to strengthen local warungs, a type of small family-owned grocery business and an essential part of everyday life in urban Indonesia, by providing disaster risk education, resources, and competitiveness for these traditional stalls to remain viable and prosperous. 
With this fresh new alliance, ByDzyne will deliver exclusive access of its Online Marketing AI (OMA) to thousands of shop owners, primarily women, across the southeast Asian country in a business shift that will surely bolster the development and sustainability of these traditional stalls. 
"I would like to congratulate Sharmila and all of those involved with this Sahara Warung.

This project is inspirational, empowers women, changes lives, and is exactly what ByDzyne stands for. We are so happy for this grand opening and know it is going to be so successful,"
shared Chanida Puranaputra, chairwoman at ByDzyne.  
Sharmila, the architect behind Sahara and chairperson of the Parent Indonesian Women Entrepreneurs Cooperative (INKOWAPI), is renowned in the region for her exemplary humanitarian efforts and entrepreneurial savviness.
She, too, believes this new partnership will be monumental for thousands of local communities, all of which have been severely impacted by Covid-19.
"Our goal for this Sahara Warung is to increase the income and financial viability of the small stalls affected by the pandemic.

The challenges of the past two years have unfortunately dropped the income by over 60 percent for these stores.

This new project, in collaboration with ByDzyne, provides a new and exciting opportunity for our stalls to finally have an online presence, which will absolutely be transformational for economic recovery. We are excited to see how we can help our members sell their products online and reap the rewards,"
expressed Sharmila. 
The OMA, in collaboration with Nowsite launched in ByDzyne in 2020, was the first all-in-one marketing platform powered by artificial intelligence. It is simple and sophisticated and provides a 30-second, 3-click marketing experience that increases each user's online presence.
It also maximizes the very best of online marketing tools, provides everything needed to market online, and grants access to each entity in one location—websites, blogs, SEOs, email marketing, CRM, and analytics. 
In short, the introduction and access to ByDzyne's OMA platform is the perfect online marketing system for small business owners and will be a gamechanger for the people of Indonesia.    
"In our digital age, this project is simply going to alter the course of local businesses and our economy in our country. We hope not only to keep these stalls running but to generate more income for our warungs and female business owners than ever before,"
uttered an optimistic Sharmila. 
And that is what ByDzyne is all about. Making the impossible, possible. 
*ByDzyne makes ZERO income claims. It takes hard work and dedication to make a substantial income. All results may vary. From July 2020 to June 2021, the typical annual income earned by a ByDzyne distributor is $540.05 For full income disclosure please visit www.bydzyne.com/IDS. For the full income disclosure please visit www.ByDzyne.com