Filip Gaworski From Poland Achieves Diamond Ambassador Rank At iGenius 
March 25, 2022
By Team Business For Home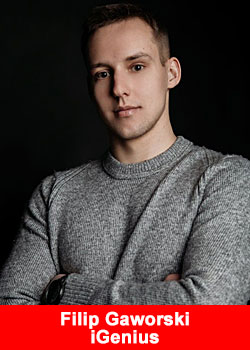 Filip Gaworski, a twenty-three-year-old from Poland, always wanted a career that would provide financial freedom.
Up until a year ago, Filip didn't know how his financial stability and freedom would come to fruition, but then he was introduced to iGenius.
Filip was eager to join iGenius after learning about the iGenius Bonus Plan, and all the ways he could earn money by helping people improve their financial lives. He was also thrilled to learn that iGenius was just starting to be introduced to the Polish market, so he'd have a great opportunity to build a Polish team.
Filip said"
"I knew that this was a great opportunity for me that I had to take advantage of if I wanted to create financial freedom for myself.

Knowing that I could create an income while helping others improve their financial situation seemed like a great path to take.

One of the best things about iGenius is it provides you with great financial education and investment tools, and it also pays well when you share the iGenius opportunity with others."
Since the launch of the Polish market, the Polish team has grown tremendously. Filip is now a well-respected leader in the community, and the iGenius opportunity is being shared with thousands of people in Poland.
Filip commented:
"The Polish group is very successful and many people have already changed their lives thanks to iGenius and network marketing." 
Filip's favorite quote is, "There's no time for excuses." When asked what advice he'd give to the field, he explained that perseverance is essential for success. Building a team isn't easy, but if you persevere through the hard times, it will all be worth it in the end.
Filip has a lot of ambition and vision for his future with iGenius. He recently achieved the rank of Diamond Ambassador. His next goals are to become a Presidential Ambassador and have one thousand active Polish customers on his team.
About iGenius
iGenius helps members amplify their quality of life by providing leading edge financial tools, education, and opportunities.
iGenius can help you take control of your future and start living brilliantly. For more information about iGenius, visit: www.igeniusglobal.com.
iGenius LLC is a wholly owned subsidiary of Investview Inc., (OTCQB:INVU), a public company. For more information on Investview and the ability to participate in Investview's growth, please visit investview.com or email [email protected].
Recommended Distributors iGenius