QuiAri Celebrates Record-Shattering Year & Unveils New Product For 2023
December 31, 2022
By Team Business For Home International
Founded October 2019, just months before the global pandemic began, QuiAri's success has silenced every critic that said it was impossible for a new Direct Sales company to survive the worldwide shutdown. 
In fact, QuiAri did more than survive the pandemic – it was one of the only companies that experienced consistent growth year after year. QuiAri Founder & CEO, Bob Reina never doubted his company's success. 
"To be quite honest, we are way too busy to fail. Our team has relentlessly stuck to our mission of helping people all over the world, and that's why we have been successful. 2022 was the best year in company history.

My Executive Team with over 350 years of combined Direct Sales experience has kept Promoters and Customers excited, engaged, and motivated with 5-Minute Pay (commissions paid in 5 minutes globally) and by having proprietary products that are literally changing lives everywhere.

We are the first and only company with antioxidant supplements that contain the new #1 superfruit, Maqui, and our proprietary, super-concentrated extract, MaquiX®, in over 100 countries worldwide,"
stated QuiAri Founder & CEO, Bob Reina.
Bob has amassed a huge, loyal following worldwide through innovative thinking and being extremely generous. From having one of the highest-paying Compensation Plans in the industry to consistently providing free, cutting-edge resources, QuiAri has earned its place at the top. Simply looking back at their long list of accomplishments in 2022, you can easily see why the industry loves QuiAri. 
Purple Diamond Training Guide & Purple Diamond Training Slides in Multiple Languages
Mindset drives Promoters to reach QuiAri's top rank of Purple Diamond. As soon as a Promoter joins QuiAri, they are provided with step-by-step instructions via the Purple Diamond Training Guide to teach them how to become successful leaders.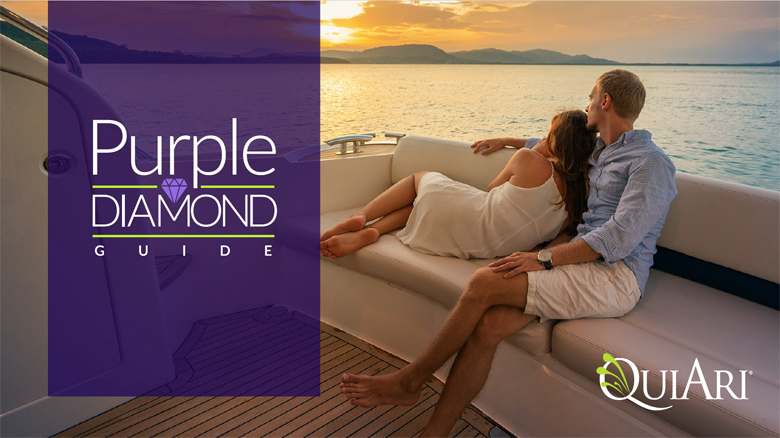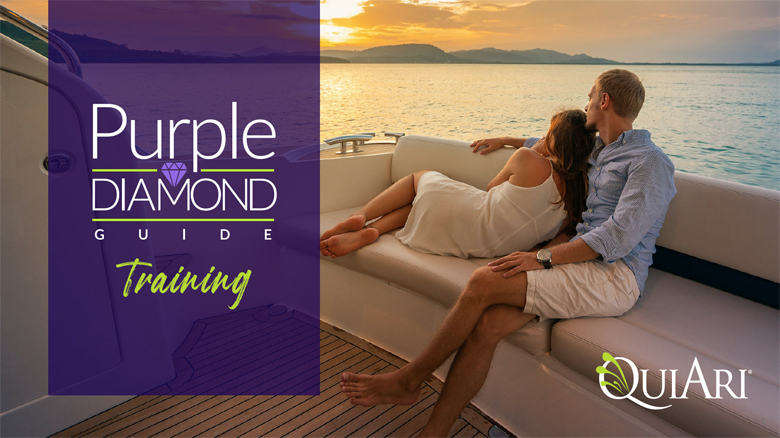 New Opportunity Presentation & Redesigned Compensation Plan In Multiple Languages
The QuiAri Opportunity is unlike any other plan in the industry. No other company pays commissions globally in less than 5 minutes or has 7 different ways to earn. Early in 2022, QuiAri stunned Promoters early in 2022 with a fresh Opportunity Presentation and a sleek, updated Compensation Plan that received rave reviews.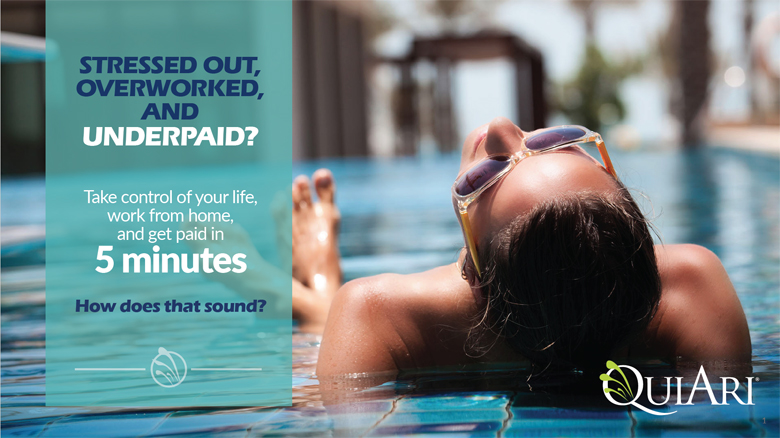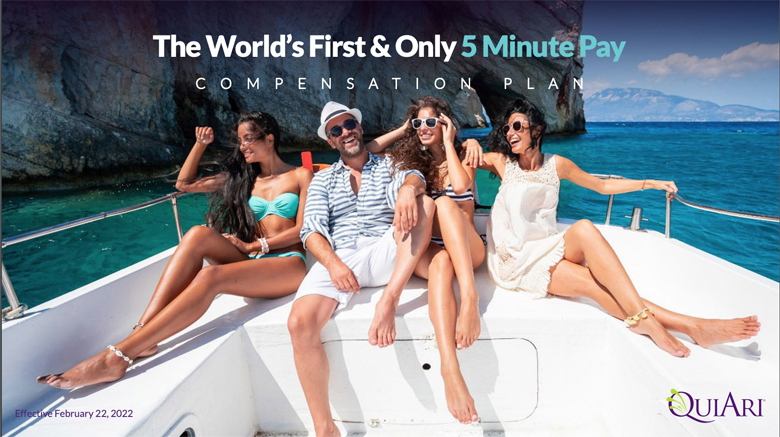 New Discover QuiAri Video In Multiple Languages
For centuries, the antioxidant power and nutritional benefits of the Maqui Berry have been known by the Mapuche natives in Patagonia, Chile for over 1,000 years. Recently re-discovered by science, QuiAri partnered with a highly sought-after award-winning Director/Producer to help tell the incredible story of the magnificent Maqui Berry.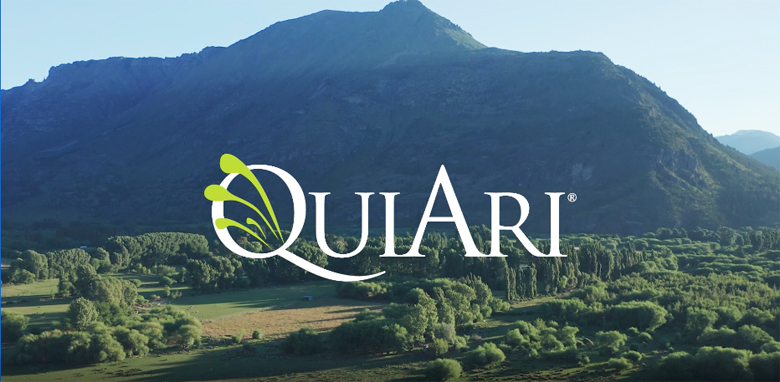 Photo and Video Shoot With Emmy-Award Winning Videographers
QuiAri's Marketing Team supports Promoters with stunning websites, brochures, package designs, social media, and breathtaking, original photography and videography that make Fortune 5 companies jealous.
Record-Shattering Global Rank Advancements
With over 100 countries worldwide, Promoters have plenty of opportunities to grow their business quickly and climb the ranks. They saw a record-breaking number of Promoters reach their top ranks in 2022. 
Promoters and Customers can save up to 12% on their total product purchase by signing up for AutoDelivery. In 2022, QuiAri launched a new Prepaid option for people without access to credit or debit cards.
History-Making Global Expansion
QuiAri spent countless resources opening many new countries in 2022. Bob Reina said that global expansion will likely triple or quadruple in 2023 as high product demand continues to drive the market.
QuiAri fans are passionate about the brand, and love to show it. QuiAri expanded their Swag Store (QuiAriSwag.com) in 2022. 
QuiAri Starts 2023 With A New Product Reveal
The latest industry buzz surrounding QuiAri is product line expansion. QuiAri is set to debut a new, never-before-seen product that will change the lives of people around the world.
QuiAri Founder & CEO, Bob Reina plans on revealing the exciting details at a global Live Event on Thursday, January 5th, 2022, at 10 AM Eastern at QuiAriHQ.com.
"Dr. Juan Hancke, the #1 Maqui Expert and QuiAri's Scientific Advisor, and I have developed the next must-have product. We really broke the mold on this one – it's a game-changer,"
said Founder & CEO, Bob Reina
A select group of QuiAri's Top Leaders have already sampled the product and have confirmed it's unlike anything they have ever tasted.
"This is going to take QuiAri to the next level and far beyond. Get ready for explosive growth in 2023," said QuiAri Director of Field Development, Brad Stewart.

"A powerful product PLUS it tastes good, this is a WIN! We are preparing for a global launch and are ready for the rank advancements happening at record speed, once this delicious and powerful product is released," said Lauren York, QuiAri Director of Marketing.

"For busy people around the world, this is going to change the way we think about nutrition. We are already hooked after one taste! We're going all-in on this one,"
said QuiAri Legend Promoters, Minh and Julie Ho.
A new product is just one of the many big things Bob Reina has planned for QuiAri in 2023. QuiAri has reached momentum and Bob is keeping the pedal down and moving full speed ahead.
"Better health and a path to financial freedom are desperately needed by people all over the globe. We've changed a lot of lives in 2022, but it will never be enough for me.

My legacy is helping people through QuiAri today, tomorrow, and far into the future.

I've created a system where anyone can join our mission and have an opportunity to earn along the way. I am extremely excited for 2023,"
said Bob Reina.
To learn more about QuiAri, their products, and the opportunity to become a Promoter, visit https://quiari.com/en, or follow them on social media @QuiAriOfficial.
About QuiAri
QuiAri is the #1 health and weight loss movement in the world today. Featuring exclusive, breakthrough products (QuiAri Shake and QuiAri Energy) featuring the world's new #1 superfruit, the Maqui berry, people everywhere are losing weight, boosting their energy levels, and improving their health. What started as an idea has now become a worldwide phenomenon, gaining a passionate following in over 200 countries. But that's not all! We boast an exciting opportunity to promote QuiAri products and earn commissions within 5 minutes after each sale through industry-first, state-of-the-art payment technology. Combining unrivaled products with the fastest payout, the fastest cycling binary, and one of the highest-paying compensation plans in the industry, there's no doubt QuiAri is helping people live healthier, happier lives. To learn more, please visit quiari.com. 
These statements have not been evaluated by the Food and Drug Administration. These products are not intended to diagnose, treat, cure, or prevent any disease.
Income Disclosure Statement
Please note the QuiAri business opportunity offers unlimited income potential. However, QuiAri makes no guarantee of financial success. Success with QuiAri results only from successful sales efforts, which require hard work, diligence, skill, persistence.
Recommended Distributors QuiAri