Gianluca Leonardi Achieves Diamond Ambassador Rank At iGenius 
January 27, 2023
By Team Business For Home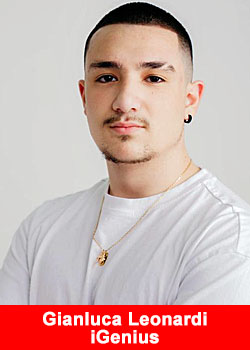 Gianluca Leonardi came from very humble beginnings. He watched his mother work extremely hard to try and make ends meet, but she was always buried in debt regardless of her work ethic.
Gianluca started working when he was only twelve years old to help his family make ends meet. Gianluca always sought freedom and independence, so one year ago he took a risk, quit his apprenticeship, and started his network marketing career.
Gianluca Leonardi is a twenty-two-year-old originally from Naples, Italy. As a young child he immigrated to Germany and grew up in Nuremberg, Bavaria.
Gianluca quickly fell in love with network marketing. He liked the concept that everyone starts off their career from ground zero with an equal playing field, regardless of their background and upbringing. He described it as the American dream that everyone can achieve.
When Gianluca was initially introduced to iGenius, he was instantly impressed with the company. He said,
"When I first learned about iGenius, I instantly fell in love with the company. iGenius encompasses the same ethics that I do. They are loyal, respect others, and are humble in everything they do.

They set the right expectations, are very transparent, and their corporate leadership is the best I have ever seen. They made me feel comfortable and that is what helped me get to this point in my career."
Gianluca recently hit the rank of Diamond Ambassador with iGenius. Because of Gianluca's work ethic and dedication, he quickly found success in his new network marketing career with iGenius. He credits his upbringing for a lot of his success.
"Networking marketing essentially saved my life. I think about all the challenging times I had throughout my childhood, the conditions I had to live in, and the various times I was about to lose my life. Network marketing gave me a way out. It gave me hope and has helped me gain the freedom and independence I always dreamed of."
Gianluca believes it's crucial to find a good mentor who can help you in the business. He also thinks it's important to learn every day, do a lot of personal development, and surround yourself with good people who will always support you.
In five to ten years, he has a goal of being one of the top ten in Business For Home, and he'd love to be on stage at a Go Pro event. He wants to help as many people as he can gain independence with network marketing.
About iGenius
iGenius helps members amplify their quality of life by providing leading edge financial tools, education, and opportunities. iGenius can help you take control of your future and start living brilliantly. For more information about iGenius, visit: www.igeniusglobal.com.
iGenius LLC is a wholly owned subsidiary of Investview Inc., (OTCQB:INVU), a public company. For more information on Investview and the ability to participate in Investview's growth, please visit investview.com or email [email protected].
Recommended Distributors iGenius