Kyra El-Ghamri 22 Years Young Achieves Presidential Ambassador Rank At iGenius
January 19, 2023
By Team Business For Home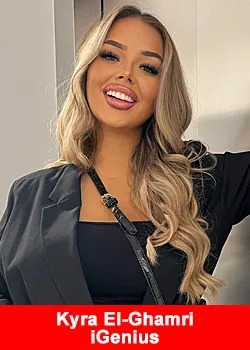 An achievement in under 90 days.  Kyra El-Ghamri turned her struggling waitress life around and is now a dominant female figure in the network marketing industry.
Kyra is a twenty-two-year-old from Nuremberg, Germany. Krya was a broke student, working full time as a waitress, unable to pay off all of her bills. She always had the determination and drive to do something bigger in life, and wanted to impact the lives of others.
When Krya was twenty years old she was introduced to network marketing. She was intrigued about the financial industry, and quickly learned that with iGenius, she could create multiple sources of income for herself.
While Kyra was engaging with all the iGenius products, mainly focusing on trading and investing, she quickly noticed the benefits of the marketing side of the company. She said,
"I especially love the people involved in building the iGenius community. Everyone is like-minded, positive, and extremely ambitious. I decided I wanted to jump in and become one of them. With iGenius, I'm able to create multiple streams of income.

I also trust the people behind iGenius. They keep their word, always do their best to improve their products and the experience for their customers and distributors, and they make you feel at home."
Kyra saw the vision and quit her job so she could focus on iGenius full-time. She has no regrets, and loves the life she's living right now.
"The perks of using social media as a tool, traveling around the world, working by the pool with my computer, and being my own boss really sounds too good to be true.

I see iGenius as a lifestyle company that will give you the possibility to come up from ground zero to hero. The independence and freedom the iGenius opportunity provides me has truly changed my life."
With her vision, hustle, discipline, and ability to ignore everyone around her who told her she couldn't do it, she quickly built a large team and achieved the rank of Presidential Ambassador.
Kyra absolutely loves what she calls the 'spiritual side' of the business. Being on a higher frequency, and displaying gratitude and love is what she believes has helped her find so much success.
To all new members joining the iGenius community, she recommends to keep going no matter what life throws at you. She believes it's crucial to hold on to your vision, dedicate yourself 100%, and like her mentor always says, grind for the next five years.

"It's five years for the rest of your life".
Her next goal is to have a massive female impact in this predominantly male industry. She wants to help at least three hundred women become financially independent and live a lifestyle full of freedom.
About iGenius
iGenius helps members amplify their quality of life by providing leading edge financial tools, education, and opportunities. iGenius can help you take control of your future and start living brilliantly. For more information about iGenius, visit: www.igeniusglobal.com.
iGenius LLC is a wholly owned subsidiary of Investview Inc., (OTCQB:INVU), a public company. For more information on Investview and the ability to participate in Investview's growth, please visit investview.com or email [email protected].
Recommended Distributors iGenius