Network Marketing Professionals Kauri & Jenny Thompson Join Touchstone Essentials
January 14, 2023
By Team Business For Home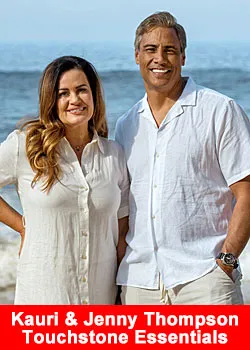 According to a Touchstone Essentials press release:
Kauri Thompson has been a legendary presence within the network marketing industry for over twenty years, with experience that includes executive positions within the corporate world and as a top field leader.
A second-generation network marketer, Jenny Thompson learned from an early age how direct sales can make a difference in people's lives. Her background encompasses corporate and field leadership, with the customers' experience being what matters most.
Together, Kauri and Jenny are a dynamic team that share a passion for helping people to achieve their dreams. When not inspiring global teams from their home base in Utah, Kauri pursues his fitness goals, and both he and Jenny are enthusiastic foodies who believe that nutrition is the foundation for optimal health.
A commitment to high-quality nutrition is what first drew them to Touchstone Essentials, a 10-year strong company which offers natural zeolite detox and certified organic nutritionals sourced from superfoods.
Jenny says:
"I can really feel the difference when I feed my body clean and functional nutrition. With Touchstone Essentials, I have hit the jackpot! As I look at Touchstone Essentials' products, I can't help but think of the many lives that will benefit from using them."
Kauri added:
"Every supermarket advertises 'organic fruits and vegetables,' and there's a reason for this: there is a huge demand for organic and recognition for how organic food is superior for your health."
As skilled leaders, Kauri and Jenny know that high demand products resonate and move quickly in the marketplace. In their experience, it's far easier to share products that people want and are looking for than trying to convince people to purchase products they are unfamiliar with.
The business potential of Touchstone Essentials' products really got their attention when they learned about the custom marketing infrastructure the company has built and put in place to attract and retain customers.
Kauri explains:
"Touchstone Essentials has done it the right way by building solid customer growth first. Rarely do you see this kind of commitment from a company. This provides a solid foundation for the company to thrive even as other direct sales companies have struggled over the past year.

With as many as 80% of sales to real customers, you realize how exceptional the products and system are, and how they provide a platform for sustainable global growth."
Both Kauri and Jenny believe in the power of network marketing to make entrepreneurship accessible to everyone. They know that people are the most important part of the business, and love building a community that uplifts and inspires. They are truly excited for the growth ahead.
"Touchstone Essentials has the best nutritional products in the industry, and that alone should be enough to attract anybody. With over 24,000 5-star reviews, people LOVE these products.

When you combine that with the customer acquisition program and systems in place, we have an unbelievable opportunity ahead of us."
Kauri and Jenny shared.
About Touchstone Essentials
Touchstone Essentials was founded in 2012 by industry veteran, Eddie Stone, with a vision of organic goodness accessible to everyone. They ship to over 60 countries around the world. Touchstone Essentials has been experiencing significant growth in the US and beyond thanks to the automated marketing systems available to its distributors.
They describe themselves as proud rebels with a cause, offering products to detox, build, and balance the body. When you join as a VBO, you become a visionary business owner. As a VBO, you're the CEO of your own empire, but you're not alone. Touchstone Essentials includes a digital marketing system, free Gift Cards and other acquisition resources, all at no cost. For more information visit www.thegoodinside.com.