Three International Dr. Dan Gubler's Secret To Proactive Wellness
March 15, 2023
By Team Business For Home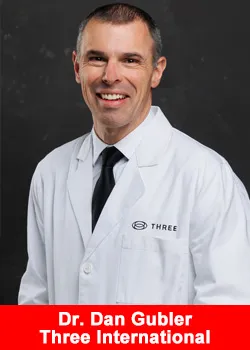 Imagine your body is like a raft floating down the river of life. Energy is constantly and intentionally applied to keep it progressing in the right direction. Without this proactive energy guiding the raft, it will veer off course; it may get beat upon the rocks; and it might even end up plummeting off a waterfall.
When it comes to your body's health, being proactive means to exert intentional energy to take good care of it, which is easier said than done for most of us admits Dr. Dan Gubler, Chief Scientific Officer at Three, a direct selling company based outside of Salt Lake City, Utah.
Dr. Dan, as he prefers to be called, says that "being proactive" is a concept that's well known and readily used, but rarely applied in terms of individual health. Dr. Dan explains:
"For a variety of reasons, most of us tend to wait until something is 'wrong' before we start thinking about taking care of our health. As the Proactive Wellness Company, one of our goals at Three is to change that mindset."
Dr. Dan says the secret to taking consistent, proactive care of your body is simply this: Take many little steps each day to maintain and promote your physical and mental health.
"We know what the body needs nutritionally to both feel and function at its best. We also know that because of the lifestyle factors we face, being intentional about our nutrition makes science-based supplementation an imperative for helping the body live proactively well."
That's why Three's proactive wellness supplements are carefully curated with phytonutrients—the medicinal component of plants. Three's entire product line is designed to allow the body to be proactive in all areas of foundational health. In fact, Three's Scientific Advisory Board members consider themselves "phytonutrient curators" as no other supplement formulation utilizes the unique phytonutrient blends that Three engineers.
As leaders in proactive wellness, Three is continually researching and discovering new ways to help consumers be proactive in all areas of their health. This led the company to Cellular Absorption Technology, which allows their supplements to deliver larger amounts of health-promoting molecules deeper into the cells for optimal bioavailability and superior benefits.
"When you are proactive about your health, you feel happier, you feel like you can take on the world, and you feel more positive. You and your body deserve nothing less."
Dr. Dan says.
About Three International
Three is a direct sales company based in Lehi, Utah. As the global leader in bioavailable wellness products, we believe in the power of purpose. Three's innovative formulas are specially designed to create demonstrable results through maximizing bioavailability and cellular absorption.
Our caring and vibrant community inspires and leads through the power of people, platform, and purpose. For more information about Three, the Proactive Wellness Company, visit iii.earth. Follow Three on Facebook, Instagram, and TikTok.
Recommended Distributors THREE