Lorena Peters and Rocco Rizzo Achieve Crown Rank At iGenius
April 14, 2023
By Team Business For Home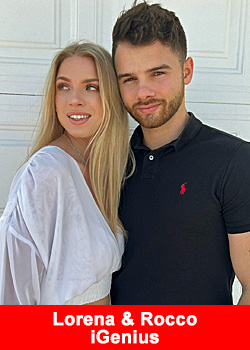 Lorena Peters, a twenty-two-year-old, and Rocco Rizzo, a twenty-six-year-old, both from Germany, recently achieved the ambitious rank of Crown at iGenius.
Lorena is currently an E-commerce student, hoping to get her Bachelor's degree this year, and Rocco is training as an industrial clerk in an office. Neither one of them had heard about network marketing before Lorena was introduced to the industry via a simple instagram message.
Lorena quickly joined iGenius, and a few weeks later introduced her soon to be business partner, Rocco, to the company. Lorena said,
"It was fate and luck that the very first company I was introduced to was iGenius. We are both the biggest iGenius fans and could not imagine anything else. We grew up at iGenius and iGenius is now our home."
Lorena and Rocco said that iGenius gave them the opportunity of a lifetime. They said,
"iGenius immediately became our passion and everything else came second. There were many hurdles to overcome and moments when business was difficult, but giving up wasn't an option."
Lorena and Rocco are very dedicated to the iGenius opportunity and are great role models in the field. They have built up a very strong team due to their great leadership that has propelled their business. They said,
"We built our business with a lot of love and friendship. Our team culture is our trademark. We believe personal contact and a lot of affection is the trick. With many incentives and investments in the team, and with the right people, a great team culture is created. If you think of your team before yourself, then you understand network marketing."
Due to their tenacious work ethic and dedication, Lorena and Rocco recently achieved the rank of Crown at iGenius. They credit a lot of their success to their supportive uplines and the great environment that iGenius and their leaders have created.
Their next goal is to achieve the rank of Legend and to help numerous newcomers become Presidential Ambassadors. They also want to start building an international presence on their team and help share the iGenius opportunity worldwide.
About iGenius
iGenius helps members amplify their quality of life by providing leading edge financial tools, education, and opportunities. iGenius can help you take control of your future and start living brilliantly. For more information about iGenius, visit: www.igeniusglobal.com.
iGenius LLC is a wholly owned subsidiary of Investview Inc., (OTCQB:INVU), a public company. For more information on Investview and the ability to participate in Investview's growth, please visit investview.com or email [email protected].
Recommended Distributors iGenius