John And Nadya Melton Speakers At Rob Sperry's Mastermind Event In Monaco
May 11, 2023
By Team Business For Home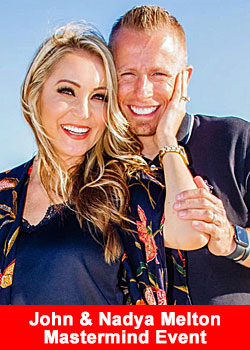 Rob Sperry  has the most exclusive masterminds in all of network marketing. Each year he has masterminds all over the world with those who have made a minimum of 6 figures in a year. Not only does he bring some of the world top earners together but he brings in top trainers and speakers.
John and Nadya Melton, will be speaking at the Leader of Leaders Mastermind in Monte Carlo on June 14 – 17th.
John and Nadya Melton are top 50 earners in the entire profession, top 3 in their company, members of the Network Marketing Hall of Fame, and two of the most renowned Social Media trainers in the Network Marketing space.
After spending 10 years building their business using traditional methods, John and Nadya realized that the cost they had to pay was too high and it was taking a toll on their family.
This led them to explore and develop various online marketing strategies until they found the formula that worked for them and their team.
Over the past five years, their organization has brought in over $300 million in sales and over 600,000 new customers. All without home parties, meeting presentations, and three-way calls.
John and Nadya have learned from and coached some of the most important names in the industry.
Today, they travel the world, spend valuable time with their family and teach entrepreneurs of all types how to build a profitable business on Social Media, and their thousands of students are a testament to the level of success you can achieve when you use simple and duplicatable online strategies.
This event in Monaco is a generic mastermind open to anyone in network marketing that has made a minimum of 6 figures in a 12-month period.
This event is up for enrollment and will be June 14th to the 17th in Monte Carlo / Monaco with Frazer Brookes, Woody Woodward, Simon Chan, Ted Nuyten, and John and Nadya Melton as many other speakers.
If you are qualified as a 6 figure earner and interested email [email protected] for more information.
About Rob Sperry
Rob Sperry has been recognized by a top publication, Business For Home, as the #1 trainer for 2017 in the network marketing industry. In his first year in the industry, he reached the highest level in a multi-billion dollar company.
Conquering new heights Sperry became the co-creator of mynt. Mynt was a spin-off from a $3 billion dollar company (total sales) and launched with a million dollars in sales, in just the first month..
Due to his expertise, he has been featured in national and international books, podcasts, blogs, articles, and magazines specific to finding success in network marketing.
Rob has spoken in 18 countries in the last few years and is a 10x author. His podcast has been listened to by 130 countries.
He now spends his time traveling the world speaking, training, writing books, and hosting some of the most prestigious mastermind retreats in the network marketing profession. For more information please visit www.robsperry.com