Ken And Lynn Robinson Achieve Highest Rank In Lifewave
August 29, 2023
By Team Business For Home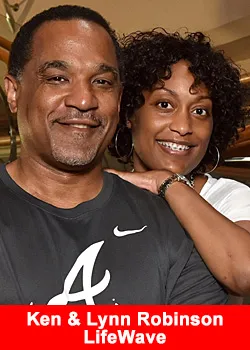 Former Circle of Champions with ACN, Ken and Lynn Robinson achieved the highest rank at Lifewave in just six months. Upon discovering Lifewave and the stem cell reactivation technology behind the X39 patch, they were very impressed.
The power couple teamed up with network marketing legends Steve and Gina Merritt and achieved the rank of Senior Presidential Director at a record pace. The Robinsons are one of the big reasons Lifewave is exploding.
With his background in Electrical Engineering, Ken understood electromagnetics and phototherapy–the technology behind the X39 patch–but was still a skeptic.
"I understood how different frequencies of light interact with our bodies but being a very analytical person, I was skeptical that something the size of a quarter, could do the things that people were saying.

But I've learned over the years that the most expensive thing you can own is a closed mind. So, I did my research and discovered the incredible world of stem cell technology."
But it was Lynn's experience with the X39 stem cell reactivation patch that really motivated the Robinsons to join Lifewave. Two years ago, Lynn had begun experiencing pain and swelling in her fingers and toes. It was so bad the spasms in her toes would sometimes wake her at night. Her doctor told her that she had rheumatoid arthritis.
"I did not want to take a lot of medication, so I was looking for a natural path to healing," said Lynn. "When I put the X39 patch on, it reactivated my own stem cells which went to work giving me immediate relief that same day. I told Ken this may be a winner."
Lynn's experience with the X39 patch gave the Robinsons the belief and the confidence to get started with Lifewave and begin sharing this technology with others.
"It feels so good to help people improve their quality of life while also aiding in their path to financial freedom," said Ken.
For Ken, network marketing had become the recycling of the same old products with the same old stories from the same old people. It was refreshing for them to find a company with an exclusive new product and a track record of success. With the newly patented X39, the Robinsons saw an opportunity to get started with an established 19-year-old company that has the feeling of a startup.
Ken and Lynn were shown the proven system that Steve and Gina Merritt had put together at Lifewave and they rolled up their sleeves and went to work.
Ken said:
"Another key factor in achieving the highest rank in LifeWave in just six months was the decision to partner up with Steve and Gina Merritt.  The Merritt's 331 System not only helped rocket us to success, but its simplicity is allowing everyone that's engaged reach their potential."
Just a few weeks ago, the Merritts, Robinsons, and their remarkable team of leaders plugged into their 331 System and held a history-making THIS IS It Convention. It was the biggest event since the launch of X39.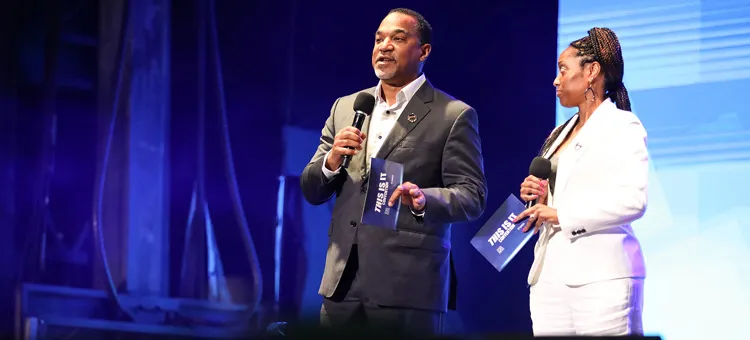 "Because of the momentum and explosive growth we are experiencing in America, Lifewave is about to see that same record growth in Europe, Asia, and the over 75 countries already opened," said Ken.    
With a career spanning over three decades, Ken and Lynn Robinson have consistently demonstrated exceptional prowess in network marketing. They have not only achieved remarkable personal success but have also played a pivotal role in empowering countless others to achieve their dreams through their mentoring efforts.
"Timing is important in business. And to have exclusivity with a product this good, it allows average people to make an above average income, and for people with above average dreams and goals the means to achieve them," said Ken.

"I have never seen this type of growth this fast with so many people winning as I've seen with Lifewave. Using our system, so many people with no experience in network marketing are winning and winning big!"
About Lifewave
Stem cell reactivation technology is beneficial because stem cell activity declines with age. At 30 years of age, only half of a person's stem cells are active, and by age 60, very few are active. Raising GHK copper peptide within the body stimulates nerve growth, increases collagen and elastin production, and improves tissue repair.
The technology behind the X39 is sophisticated, but the average person understands the importance of keeping their stem cells healthy and active. Research on the stem cell reactivation patch technology including the 80 case studies, patents, doctor reviews, and testimonies can be found at www.StartX39.com.
Recommended Distributors LifeWave