Demont Rainge Joins QuiAri's Executive Team As Chief Operating Officer
September 2, 2023
By Nicole Dunkley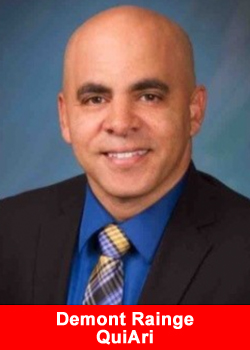 QuiAri's record-shattering growth over the last 4 years has been a virtual magnet for the industry's most elite Promoters.
We've all seen the headlines. Every week, another global Leader discovers QuiAri's breakthrough, proprietary Products, and lucrative Compensation Plan with industry-first 5-Minute Pay and immediately joins.
However, QuiAri's massive talent pool isn't limited to just the Field. QuiAri Founder & CEO, Bob Reina has stacked the Executive Team with an impressive roster of established, experienced Corporate Leaders with over 400 years of combined MLM experience.
The latest hire is Demont Rainge as Chief Operating Officer. Demont, who is from New Smyrna Beach, Florida, has over 20 years of experience helping multi-billion-dollar companies achieve operational excellence.
 "I'm very excited and honored to be part of QuiAri's immensely talented Executive Team. I spent the first 18 years of my career with Siemens, a global corporation with $80 billion in yearly global revenue.

After years of being on the Siemens Executive team and implementing hundreds of global tools and processes, it was time for me to move on and help another company. I then joined the Executive Team of a multi-billion-dollar health and wellness MLM.

Bob Reina and I have been friends for years and we are both passionate about cutting-edge technology and the MLM Industry. He has brilliant, progressive ideas for QuiAri, as well as the entire industry, and I have the expertise to help bring them to life. It just made sense for us to work together towards the same goals.

QuiAri is already operating at a very high level, but I know Bob well and he is never content. He always wants more for his Promoters, Customers, and employees.  Over the next few years, I plan to help Bob take this company to the highest level, a level where both traditional and Direct Sales companies will aspire to be just like QuiAri. We will become the leader that all other leaders follow,"
said QuiAri Chief Operating Officer, Demont Rainge.
Demont noted industry-first 5-Minute Pay as one of QuiAri's technological achievements that made him eager to join the Team. No other company in the world pays Promoters commissions that quickly. In Demont's past roles, innovation and speed weren't always encouraged or rewarded.
"When I finally got to my dream job at Siemens, it was sometimes disappointing.  I was often told to 'just slow down and enjoy it.' I just do not operate like that. I'm naturally driven to succeed. If something isn't working, I'm compelled not just to fix it but make it better.

I think that's why QuiAri is the perfect fit for me. Bob doesn't settle for being 2nd or 3rd best. It's #1 or nothing. For example, QuiAri's 5-Minute Pay is such a revolutionary system and QuiAri was the first company to introduce the Maqui Berry to the global market.

Something very special is happening daily at QuiAri that some people aren't aware of. As we expand deeper into the 100+ countries we already serve, everyone will see why QuiAri is the new # 1. This is why Promoters shouldn't wait to join QuiAri,"
said Demont Rainge.
Global expansion is a top priority for Demont, as there are several large, virtually untapped markets where demand for better health and a lucrative opportunity is desperately needed.  At a live global event on Thursday, Bob Reina announced expansion into South Korea. Demont has extensive experience in Global Supply and Operations throughout Asia and has been working closely with key South Korean Leaders.
"Unlike other companies, QuiAri moves very quickly when opening new markets, although they are careful not to rush in without being prepared. Bob is meticulous in his processes and does not open until 100% of the systems are tested and ready. 

Most companies typically roll out at 80% or 90%, and risk disappointing Customers and distracting Promoters. Bob is one of the few CEOs I've met that understands why that's not acceptable.

My pledge to our promoters is Operational Excellence. People who have worked with me know that I am never satisfied until there are zero operational issues, and every single Promoter is satisfied,"
said Demont Rainge.
Looking towards the future, Demont believes QuiAri is on track to be the next multi-billion-dollar company. Even before the launch of QuiAri's new Prime anti-aging gel, he said QuiAri was generating buzz among the industry's most successful brands.
"I can tell you that QuiAri is actively changing the way Network Marketing companies think about their Products, Opportunity, and even Marketing. QuiAri Products all have 1 thing in common – Maqui, the world's new #1 superfruit, and a proprietary, supercharged antioxidant extract, MaquiX®.

The Maqui Berry has virtually endless benefits. No other company can or will be able to have a single, highly rare, nutritionally powerful ingredient to anchor their product line. Every company right now is trying to find a similar ingredient that nutritionally compares to Maqui and it just doesn't exist.

Also, 5-Minute Pay is a universal incentive. There are people who enjoy getting paid quickly and, in some situations, need to get paid in 5 minutes. There are 7 different ways to earn commissions, which removes all excuses for Promoters not to build their businesses.

Ultimately, our goal with the QuiAri Opportunity is to give everyone the path to their dreams. What we are doing here at QuiAri is life-changing,"
stated Demont Rainge.
Although Demont has only been working at QuiAri for a short period of time, Bob said he has been a valuable addition to the team.
"It has been a pleasure working with Demont. He's smart, well-versed in a wide variety of different cultures, and 100% committed to the QuiAri mission of helping others succeed.

Everyone knows I'm a big believer in having the right mindset for success. Demont will be a tremendous help in moving our company forward. Welcome to the QuiAri Family, Demont,"
said QuiAri Founder & CEO, Bob Reina.
In his spare time, Demont stays active in his community. He co-founded a nonprofit organization that is devoted to providing free sports equipment and instruction to the youth of his community, as well as providing thousands of dollars in yearly scholarships to high school seniors to help them pursue their college dreams.
"Giving back is important to me. I have 2 amazing children of my own and know how expensive sports and college can be, I'm so happy that I'm able to help other.

I highly respect Bob's level of philanthropy as well, as he famously donated $1 million dollars to the Tampa Bay Humane Society. Making large donations to deserving organizations is definitely a dream of mine,"
stated Demont Rainge.
To learn more about QuiAri, their products, and the opportunity to become a Promoter, visit https://quiari.com/en, or follow them on social media @QuiAriOfficial.
About QuiAri
QuiAri is the #1 health and weight loss movement in the world today. Featuring exclusive, breakthrough products (QuiAri Shake and QuiAri Energy) featuring the world's new #1 superfruit, the Maqui berry, people everywhere are losing weight, boosting their energy levels, and improving their health. What started as an idea has now become a worldwide phenomenon, gaining a passionate following in over 200 countries. But that's not all! We boast an exciting opportunity to promote QuiAri products and earn commissions within 5 minutes after each sale through industry-first, state-of-the-art payment technology. Combining unrivaled products with the fastest payout, the fastest cycling binary, and one of the highest-paying compensation plans in the industry, there's no doubt QuiAri is helping people live healthier, happier lives. To learn more, please visit quiari.com.
These statements have not been evaluated by the Food and Drug Administration. These products are not intended to diagnose, treat, cure, or prevent any disease.
Income Disclosure Statement
 Please note the QuiAri business opportunity offers unlimited income potential. However, QuiAri makes no guarantee of financial success. Success with QuiAri results only from successful sales efforts, which require hard work, diligence, skill, persistence, competence, and leadership. Your income will depend upon how well you exercise these qualities.
These statements have not been evaluated by the Food and Drug Administration. These products are not intended to diagnose, treat, cure, or prevent any disease.
Recommended Distributors QuiAri