iGenius – A Review Of The Opportunity By Numbers
September 22, 2023
By Team Business For Home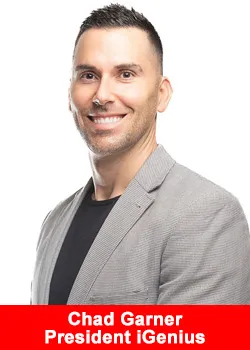 iGenius, a renowned Network Marketing company dedicated to empowering individuals, has made waves in 2022 with its staggering revenue of $70 million. While it's said that 65% of this sum could have been distributed as commission, it's important to note that results may vary. Joining iGenius holds immense potential, but outcomes depend on individual efforts and dedication.
iGenius in numbers
iGenius, led by President Chad Garner, has shown a solid performance with impressive statistics. In 2022, the company reported a revenue of $70 Million, indicating a strong financial position. The compensation plan resulted in a payout of 65%, with a potential commission of $45 Million.
This demonstrates the company's commitment to rewarding its distributors. With a Business for Home Rating of AAA+, the top rank, and a current Momentum Rank of 2, iGenius has gained recognition and positive reviews within the industry. The company page here provides more information about their operations and offerings.
2022 revenue: $70 Million*
Potential commission payout: $45 million
Compensation plan payout percentage: 65%
Business for Home Rating: AAA+
Current Business for Home Momentum Rank: 2
Number of Recommended Distributors: 20
Business for Home Page Views: 78,038
President: Chad Garner
For more detailed reviews and insights about iGenius, you can visit the company review page here. Overall, iGenius has maintained a strong position in the industry and continues to attract attention and interest from distributors and investors alike.
*Data provide by the proprietary Business for Home Intelligence Engine.
Building a possible business with iGenius in 2023? then we suggest:
1. Understand What Network Marketing Is
In network marketing, you build your business by promoting and selling a company's products and by recruiting other individuals to do the same. This business model allows for immense growth and potential, but requires dedication, resilience, and a strategic approach. It's crucial to choose the right company to work with, which is where iGenius comes into play.
2. Research the Company: iGenius
Before associating with any network marketing company, gather as much information as possible. iGenius is a company aimed to understand and utilize artificial intelligence. They believe in individuals having control over their finances, hence offering educational content along with AI-driven tools for making informed decisions. Get a holistic view of the company's operations, mission, vision, rank, products, and leadership in the industry.
3. Evaluate the Business for Home website
Business for Home is the world wide leader in Network Marketing data and news. Here, you can find hard-to-come-by information about numerous network marketing companies. The website has a massive database of reviews and ratings for these companies helping you to ascertain the credibility of your choice.
4. Read Reviews
Before committing to a network marketing company, it's essential to gauge the experiences of others. Reviews are available on the iGenius review page on Business for Home. This page offers insights into the experiences of both current and former associates of the company. Ensuring you approach this with an open mind will allow a balanced perspective on the pros and cons of joining iGenius.
5. Check the Company's Rank
Satisfaction alone isn't enough, the success of the company matters too. Check the rank of iGenius on the rank page. This will give you an idea of the company's standing in the industry and whether or not it's growing. Remember, in network marketing, the success of the company is your success too.
6. Make Your Decision
After completing your research, you'll be in a position to make a balanced, well-informed decision. Remember, while network marketing offers potentially excellent returns, it does require effort, dedication, and the ability to build and maintain a team. If you're ready for these challenges, and you believe in the products and vision of iGenius, then it could be the opportunity you've been looking for.
Here's a glimpse of what people are writing about iGenius:
The reviews for iGenius provided by the users display a variety of experiences, though they lean heavily on the positive side. Keith Koehler, one of the reviewers, describes iGenius as "The best in the business" and believes that it has completely transformed his life. He said:
"I now am a full time profitable trader! I'm Truly Grateful for all the educational and motivational tools that are provided in iGenius."
Other reviewers, such as Jonathon Bledsoe, emphasize how iGenius has not only helped them grow as individuals but also expanded their understanding of business.
"They have helped me grow as a person while also elevating myself to a new level! As well as my understanding of business and how I can build my own if I choose to do so."
Similarly, Meghan Glover expressed gratitude for the
"mindset, education, and relationships she developed through the platform."
Many reviewers also focus on the financial literacy iGenius promotes. Graham Molenhuis believes the company has set him on the path to financial independence, stating,
"Not only financially literate but I'm well on my way to becoming financially free."
Jessie Lawrence refers to iGenius as a
"fueling station to my goals and my passions." He praises their user-friendly products and the impact they have on daily life.
Moreover, a few reviewers mention the ability to balance their use of iGenius with their regular lifestyles. For instance, Wensdy López incorporated iGenius into her schedule as a full-time college student and part-time worker. She appreciates how the platform is easy to understand and accommodates her busy schedule.
"I started off as a busy full-time college student and part-time worker, felt unqualified however, discovered how simple this platform is and began working it around my schedule!"
Lastly, Ronda Wise stresses the diverse educational opportunities iGenius provides, citing
"experiences learning about investing, forex, and money management."
In conclusion, based on the reviews, it can be said that users generally find iGenius to be a life-changing, educational platform that promotes personal growth, financial literacy, and is accommodating for various lifestyles. Their offerings seem to have a positive impact on users, leading to increased confidence in one's ability to understand and navigate the financial market.
Conclusion
iGenius, a well-known organization, has generated a substantial revenue of $70 Million in 2022. While it's estimated that 65% of this amount could have been paid out as commissions, it's important to remember that individual results may vary. Joining iGenius presents a promising opportunity, but success will depend on each person's efforts and commitment.
iGenius, under the leadership of President Chad Garner, has demonstrated strong performance and impressive earnings. With a revenue of $70 Million and a potential commission payout of $45 Million the company emphasizes rewarding its distributors. It holds a top rank of AAA+ on the Business for Home Rating and currently occupies the second position in the Momentum Rank. These achievements have garnered positive recognition and feedback in the industry.
For a more comprehensive understanding of iGenius, interested individuals can visit the company's page on Business for Home, which provides additional information on their operations and offerings. The company review page on Business for Home also offers detailed reviews and insights about iGenius.
In conclusion, iGenius has established a strong presence in the industry with substantial earnings and positive rankings. While it's possible to make decent money with iGenius, success will ultimately depend on individual dedication and investment.
Recommended Distributors iGenius