Network Marketing Professionals Dirk and Kerstin Oelrich Join JIFU
September 2, 2023
By Team Business For Home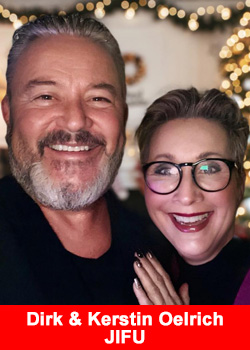 JIFU's dedication to providing value-based, digital and physical products to its affiliates has attracted top leaders and led to worldwide growth.
JIFU is thrilled to announce that Dirk H. Oelrich, a well-known network marketing executive and icon, has recently joined the company.
Together with his wife Kerstin, he has been active in network marketing and direct sales for almost 35 years, both as a leader in the field with 10,000 partners worldwide and in the management of various companies. 
Dirk and Kerstin have lived for a long time in southern Spain and dedicated themselves to building their business in non-European countries in South America, the Russian speaking countries, and Israel. Four years ago, they moved their base back to Germany to refocus on the European market, especially the DACH region.
In doing so, they were looking for a company that, above all, would take advantage of new media and promote their use. They observed that the network marketing industry is reorganizing itself and undergoing a major structural change.
The trend is more towards digital services, education, and shopping portals, where you can buy cheaper than usual on the market, rather than the well-known "specialists" with sometimes overpriced products.
During their research, the Oelrichs came across JIFU, a company launched in Europe just a few months ago. The company, which is headquartered in the USA and is just four years old, is already active in the digital sector and has built a growing community. JIFU has attracted world-renowned leaders such as Fabian Fitzner, Danien Feier, and many more.
"In partnering with this amazing salesforce, we are building a dream team of some of the best network marketers in the world," says Oelrich.
In the beginning, the company's focus has been on travel, but it has already launched several other product categories such as education and top-notch physical products.
"Our goal is to create a business model that we feel is perfect. This model will include travel at cost, physical products, education, and finance. In summary, it will be a completely hybrid business that combines travel, health, and wealth."
Mr. Oelrich stated.
About JIFU
JIFU was created to support a concept called Life LiftedTM. Our lives are lifted when we experience other cultures through travel, when we improve ourselves through education, and when we choose to live a healthier lifestyle.
We believe all people should live richer, more productive lives, and JIFU makes this a reality by providing exclusive access to travel savings, education, health and beauty products, and a compensation plan that is unmatched in the industry. Learn more at www.jifu.com.
Recommended Distributors Jifu