Polish Leader Cezary Lewicki Achieves Presidential Ambassador Rank At iGenius
September 8, 2023
By Nicole Dunkley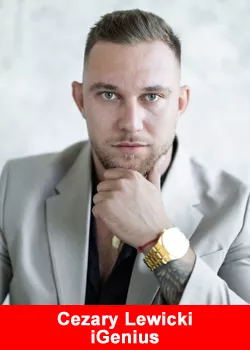 Cezary Lewicki is a twenty-seven-year-old from Poland. Cezary grew up in the sports world and thought he had it set. He played professional volleyball for over twelve years, but in the blink of an eye, his entire career crumbled overnight due to a serious injury.
Cezary had to start over. During the COVID-19 pandemic he started looking for additional streams of income. One day, while he was scrolling through Instagram, he came across the profile of his current leader. They invited him to a free webinar and that's how Cezary was introduced to iGenius. 
Cezary had no previous network marketing experience, but after being surrounded by a community of entrepreneurial and young people who shared the same vision for life as he did, he decided to fully commit and dive in head first. He said,
"I am extremely grateful that I found my way to iGenius mainly because of the extensive education and the fantastic community. Here, I can be my own boss and build a business on my own terms.

My results depend on the effort and time I invest, not on a boss who pays me a fixed salary every month without the possibility of advancement. At iGenius you can be whoever you want, and all results are based on your commitment." 
Because of Cezary's determination and discipline over the last two years, he recently hit the well-respected rank of Presidential Ambassador. Cezary has built a very strong team and is now a well-known leader in the field. He said,
"For over two years now I have dedicated every free moment to my business and personal development. There are ups and downs, but they are what shape the best leaders in this industry. 

Success can only be achieved through hard work, and here, you have to work hard and, above all, persevere.

I have a very clear vision of myself in a few years and how I will build a large team and help many people. This keeps me on a high vibration, and I have a lot of energy because of it."
When asked what advice he'd like to give to newcomers, he said he'd recommend focusing 100% on your business for the next few years. He believes it's crucial to learn from people who are better than you, and to attend the events. At the events he sees the benefit of gaining an immense knowledge about the business and he says it's a great place to meet valuable individuals. He said,
"One iGenius event changed everything for me at the beginning of my business journey. At the event I built a strong belief in what I do."
Cezary's next goal is to achieve the rank of crown and to build a team of at least 10,000 people in my organization. He believes the sky's the limit and he's thankful iGenius allows him to help solve people's problems. 
About iGenius
iGenius helps members amplify their quality of life by providing leading edge financial tools, education, and opportunities. iGenius can help you take control of your future and start living brilliantly. For more information about iGenius, visit: www.igeniusglobal.com.
iGenius LLC is a wholly owned subsidiary of Investview Inc., (OTCQB:INVU), a public company. For more information on Investview and the ability to participate in Investview's growth, please visit investview.com or email [email protected].
Recommended Distributors iGenius