Industry Legends Larry & Taylor Thompson Team Up With Touchstone Essentials
October 9, 2023
By Team Business For Home
Larry and Taylor Thompson are joining forces with Eddie Stone, CEO of Touchstone Essentials, as strategic advisors. They're excited to apply their Gig Economy strategies to amplify the success of this fast-growing global health and wellness company.
Legends in the direct sales industry, Larry and Taylor Thompson know a thing or two about applying proven success principles in an ever-changing business environment.
Since the day Larry first walked into a network marketing meeting as a self-proclaimed "long-haired hippie construction worker" that knew nothing about sales, he has become known as the "mentor to millionaires" while helping to build billion-dollar brands such as Herbalife and PM-International. His storied career includes five decades of mentoring thousands of entrepreneurs seeking to turn their side gig into financial freedom.
Taylor Thompson, Larry's wife and business partner, was hoping to earn some extra income while staying at home to provide her newborn baby Momcare versus Daycare. But that extra $800 a month grew into a seven-figure income as she immersed herself in the business, propelling a meteoric rise to become one the most influential entrepreneurs in direct sales.
With more than 73 million people in the United States participating in the gig economy, Larry and Taylor's training will focus on the advantages direct selling has over other "gigs" such as Uber, Door Dash and others encroaching on the industry, and give leaders the guidance and skills to exponentially scale their growth.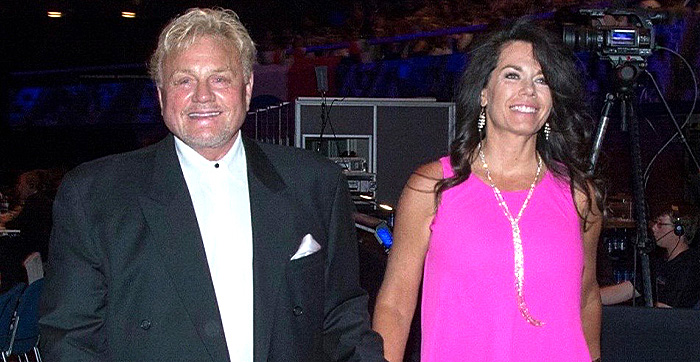 Larry Thompson says:
"Despite the fact that direct sales companies generate $230 billion dollars in revenue, we're no longer the only option for people that want a flexible and lucrative opportunity, and we must adjust with the times, competing based on customer experience and affiliate programs.

With a dynamic gift card program, automated marketing systems, and digital advertising, Touchstone Essentials is at the forefront of consumer-focused marketing in the industry, perfectly positioning them to become the next billion-dollar brand."
Touchstone Essentials has seen a decade of consistent growth, and Larry and Taylor believe now is the perfect time to apply their skills, experience, and strategic advice for this global brand. The company's forward-thinking leadership and industry-leading digital marketing tools have not only spurred tremendous opportunity for their Affiliates, Influencers and Visionary Business Owners, but cultivated a robust and growing customer base, which is the foundation for long-term success.
Taylor Thompson says:
"I can't remember the last time we worked with a company that had such a high customer to business owner ratio. The potential for a billion-dollar brand is right there."
In the face of ongoing changes in the industry, Larry and Taylor are confident in the fact that direct sales has advantages that other opportunities simply don't. And, with the right training on gig strategies, they believe leaders can adapt to make direct sales more accessible than ever and propel even greater growth.
Eddie Stone says:
"The timing could not be better. Everyone is looking for answers in this 'new' gig economy and Larry and Taylor have proven time and again that they have the expertise to see opportunity when it is most favorable, and the experience to deliver results.

People need a company to call home where they can build something special for their families that can endure. With over a decade of growth, we stand ready to lead in the years to come."
About Touchstone Essentials
Touchstone Essentials was founded in 2012 by industry veteran, Eddie Stone, with a vision to touch the lives of five million families with goodness. Designed to fit around a busy lifestyle, its wellness products help people detox, build, and balance and are backed by tens of thousands of five-star verified reviews.
When you join as a VBO, you become a visionary business owner with full access to their automated digital marketing system, all at no cost. For more information visit thegoodinside.com.
Recommended Distributors Touchstone Essentials