Massive iGenius Event in Jordan
October 19, 2023
By Team Business For Home International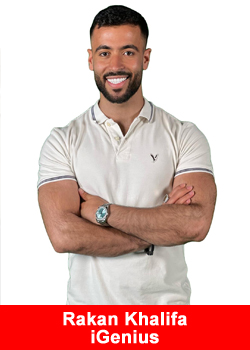 Last weekend a massive iGenius event was held in Amman, Jordan. More than 2,000 attendees learned valuable skills from a variety of speakers from all around the world. The speakers provided valuable training on entrepreneurship, marketing, sales, and professional development. 
Not only that, but the attendees also got to rub shoulders with some of iGenius' top field leaders including Rakan Khalifa, Ahmad Nofal, Mamoun Sheikh Elard, and Mohammad Shamieh.
iGenius Crown leader, Rakan Khalifa said,
"This event was truly life-changing for those in attendance. The tremendous amount of planning and preparation really paid off.

I look forward to the next several months to watch how these trainings will positively affect iGenius customers and distributors." 
iGenius Senior Director of Sales, Christian Crabtree said, 
"I am really excited to see the growth going on in the Middle East. We have some great leaders there who are dedicated to improving the financial futures of their communities by sharing the iGenius products and opportunity.

I'm excited to see how much their teams grow and to see the impact our products can have on so many great people."
The Jordan event was a major success and was a great example of the international growth of iGenius. 
About iGenius
iGenius helps members amplify their quality of life by providing leading edge financial tools, education, and opportunities. iGenius can help you take control of your future and start living brilliantly. For more information about iGenius, visit: www.igeniusglobal.com.
iGenius LLC is a wholly owned subsidiary of Investview Inc., (OTCQB:INVU), a public company. For more information on Investview and the ability to participate in Investview's growth, please visit investview.com or email [email protected].
Recommended Distributors iGenius