Carl And Cathie Firestone Achieve Highest Rank In LifeWave
November 21, 2023
By Team Business For Home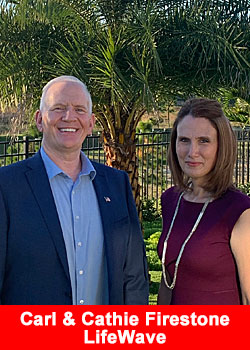 Carl and Cathie Firestone, achieve Senior Presidential Director (the highest rank) in LifeWave. The Firestones explain what they have experienced with this life changing opportunity. Conventional business owners, Carl and Cathie Firestone, recently turned to LifeWave as the opportunity of a lifetime and the vehicle to bring hope to the masses.
When dear friends Steve and Gina Merritt, called the Firestones in July 2022, Carl and Cathie were not immediately enthusiastic about engaging again in MLM.  While they had success in the industry in the past, they were jaded with similar competing products that every company seemed to offer.
Their home renovation business in Orlando, FL was thriving, but the oppressive Florida summer heat was taking its toll on Carl and the couple had been praying to God for another revenue stream. Never did they dream their answer would come in another MLM.  But that all changed once Steve mentioned the patents on the LifeWave technology.
The LifeWave Difference
"A patent changes everything and gives exclusivity, protection and longevity to the opportunity," says Carl Firestone.
After receiving significant health benefits from LifeWave's flagship product, the X39 non-transdermal patch, Carl and Cathie saw the incredible potential that the LifeWave opportunity offered for everyone.
Carl has been an entrepreneur his entire adult life.  He has owned 7 business across 4 sectors including a small manufacturing company, 2 global contracting companies that he began in his father's barn in northeast Ohio and traditional franchising with the premier worldwide sub sandwich company.
"Carl and Cathie have been married for 27 years.  "I have never seen him as excited about an opportunity as he is about LifeWave," Cathie says.
Carl says:
"This is the product and the company we've all been hoping and praying for!  The up front start up cost is extremely affordable.  ANYONE with a dream can get started and because the product is stellar and people get such remarkable and often quick results, it does the heavy lifting and convincing for us.
The monthly overhead is very reasonable and benefits the brand partner. In traditional business, if you want to increase revenue, all expenses increase as well like rent, utilities, employees, cost of goods sold, insurance, etc. In LifeWave, as your residual income compounds, your overhead essentially stays the same. It's nothing short of magical.
You cannot get this low-risk/high reward compounding effect in traditional business or franchising…it just doesn't exist!" And when you couple that with a patented product like x39 there really is no limit to what people can achieve and how many lives can be changed."
The Right Leadership
A significant missing piece for most MLM companies is authentic leadership.
"When we heard David Schmidt speak for the first time, we knew LifeWave would be our new home. Not only is he the CEO but he's also the inventor of the technology.
That's unheard of in this industry.  He personally holds over 130 patents.  When you meet him, you see his heart for people and for being a force for good in the world. David is passionate about LifeWave products because they are labors of love.
He's using the incredible brilliance God has gifted him with to change the course of people's lives and we get to be a part of that. We as brand partners are able to use David's solid credibility as a scientist and inventor as we share this remarkable technology," says Cathie.
Carl says:
"This LifeWave blessing comes from God first and foremost and Cathie and I are forever grateful that He used Steve and Gina Merritt to bring it to us."
The Firestones are grateful for their sponsors, Don and Sandi Mahrer, and credit much of their success to Steve and Gina Merritt's , unwavering leadership and their THIS IS IT System.
Carl says:
"Steve and Gina Merritt are icons in the MLM industry. They could be enjoying their success with their children and grandchildren on the beaches of the world but instead they choose to dive in day after day to help others achieve their dreams. The X39 landing page ThisIsItInfo.Com and training system, ThisIsItTeam.Com, they have put in place is second to none. It allows anyone who is willing to learn, implement, and be persistent to succeed!  We are on the right team at the right time with the right product and company!"
Carl and Cathie Firestone are taking LifeWave's newly patented, affordable and miraculous technologies to everyone God puts in their path. David Schmidt has a goal for 1 billion homes to be impacted by LifeWave and the Firestones are all in and looking for those who want to join them.
About LifeWave
Since LifeWave received its Patent for the X39 technology July 2020, the company has experienced explosive growth. LifeWave has grown from 20 million to 320 million dollars in the last 3 years with the United States being their number one market. LifeWave reports it grew 120% from September 2022 to 2023. All this excitement has captured the attention of many Network Marketing leaders around the world.
The technology behind the X39 is very sophisticated, but the average person can understand how it works. David Schmidt the owner of LifeWave and inventor of X39 has been doing stem cell research since 2008 and whether the use of pulsed electromagnetic fields could have beneficial effects. David has over 130 Patents and has performed many case studies on LifeWave's X39 patch technology. To research X39 case studies, doctor reviews, patents, and testimonies go to ThisIsItinfo.com
Recommended Distributors LifeWave