Diana Halim Achieves Green Diamond At QuiAri
November 4, 2023
By Team Business For Home International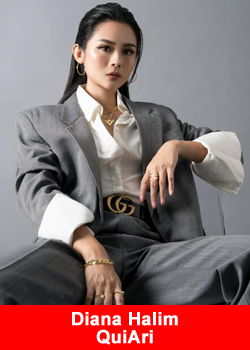 Diana Halim, from Surabaya, Indonesia is a successful woman in many different fields. She's a Content Creator, Fashion Designer, Fitness & Health Enthusiast, proud Mom of 2, and, most recently, a Green Diamond Promoter at QuiAri.
"A friend who knows I'm interested in health and nutrition introduced me to QuiAri Products. I loved the way the products made me feel – more energized, leaner, and my skin looked and felt younger.

Plus, they are delicious!  I saw QuiAri as a golden opportunity that aligned with what I do best – helping others and providing for my family.

I've worked in the Network Marketing industry for a long time and enjoyed success, but this opportunity is completely different.

QuiAri offers the highest commission payout I've ever received, and they pay in 5 minutes or less worldwide. That is truly remarkable. People around the world need to know this company exists,"
said QuiAri Green Diamond, Diana Halim.
When Diana introduced QuiAri to her Team, which is a mix of her Promoters, Customers, Fans, and Followers, they were just as excited as she was.
"I shared product samples and an Opportunity video featuring QuiAri Founder & CEO, Bob Reina explaining the Compensation Plan, and everyone on my Team was ready to go all-in. Indonesia is a big country.

We have the 5th largest population in the world. There is plenty of room for growth here as well as in the 100+ countries you can find QuiAri.

Living a healthier lifestyle and having the opportunity to earn extra money is a universal goal for everyone,"
said Green Diamond Diana Halim.
Diana attributes her success to having great mentors – Crown Purple Diamond, Mario Halim, and Grand Purple Diamond, Marcell Halim. Both are very well-known Network Marketers in Indonesia and are among the most successful leaders in the world.
"I have a lot of respect for Mario and Marcell Halim. I learned how to be a great leader by following their actions. They were always particular about which Direct Sales companies they would join.

The Compensation Plan and Products were obviously important, but they looked more closely at the leadership and mission of the company. It makes perfect sense that they joined QuiAri. QuiAri Founder & CEO, Bob Reina and Kristie Reina are legends in this business for a reason.

They surround themselves with great people. For example, they hired an Executive Team with a combined 500+ years of MLM industry experience. Plus, not only does QuiAri have the quickest and one of the highest payouts, but they are also one of the fastest-growing companies in MLM.

I also really like that Bob and Kristie use their success to help others. They famously donated over $1,000,000 (USD) to the Humane Society of Tampa Bay, an organization that helps rescue stray dogs and cats,"
stated Diana Halim.
Giving back on a larger scale is a personal goal of Diana's. As a mom, she wants to teach her children the importance of helping others who are less fortunate.
"I am a hard worker and have been blessed with multiple opportunities to succeed in Network Marketing as well as other industries.

Unfortunately, not everyone can say the same…especially in Indonesia, where there are over 3 million homeless adults and children.

Once I reach QuiAri's top rank of Crown Purple Diamond, I would like to create a legacy of giving.

I hope that, in the near future, I won't be donating to local homeless shelters, but rather building one from the ground up. That is a dream I believe I can accomplish with the help of QuiAri and 5-Minute Pay,"
said Diana Halim.
QuiAri's momentum is extremely strong, and it's about to get even stronger. QuiAri South Korea will be open for business soon. All QuiAri Promoters worldwide have the chance to help introduce their breakthrough products and one-of-a-kind business opportunity to millions of new people.
"Global expansion happens at record-breaking speeds at QuiAri. South Korea is a once-in-a-lifetime opportunity to rapidly grow my business and achieve my goal of reaching Crown Purple Diamond. 

You don't have to be an expert to see the potential.

QuiAri has the only products in the world with both the new #1 antioxidant superfruit, Maqui, and QuiAri's proprietary MaquiX® extract, which boosts the antioxidant power of Maqui up to 10 times. Plus, we have the fastest-paying compensation plan in the world,"
said Diana Halim.
QuiAri's Compensation Plan has been praised by industry experts for being easy to comprehend. It is a simple binary plan, where an Active Promoter can make it to the top rank of Crown Purple Diamond starting with Promoter on their left side and another Promoter on their right side.          
"Promoters can work whenever they want, part-time or full-time, set their own hours, and work from anywhere in the world.

Flexibility as a mom and businesswoman is important to me, and QuiAri works with me to help achieve my goals.

I hope that me reaching the rank of Green Diamond inspires other Moms and people juggling multiple jobs to not give up on their dreams. You'll be surprised at how much you can accomplish at QuiAri in just a short amount of time,"
stated Diana Halim.    
To learn more about QuiAri, their products, and the opportunity to become a Promoter or Customer, visit https://quiari.com/en, or follow them on social media @QuiAriOfficial.
About QuiAri
Welcome to the new #1, QuiAri. Our mission is built around the basic principle of helping people live their best lives. Through our nutritious, breakthrough products featuring the new #1 antioxidant superfruit, Maqui Berry, and one-of-a-kind business opportunity with industry-first 5-Minute Pay (commissions paid within 5 minutes globally), we have created a global phenomenon that spans over 100 countries and counting. Led by industry icon and Founder & CEO, Bob Reina, and an Executive Team with a combined 500+ years of MLM experience, QuiAri has the fastest-paying and one of the highest-paying Compensation Plans in the industry. Their three delicious, life-changing products with proprietary ingredients, QuiAri Shake, QuiAri Energy, and QuiAri Prime, help people look and feel younger, healthier, and full of energy. Come see why people are rushing to join the most innovative and one of the fastest-growing companies in all of Network Marketing. Visit QuiAri.com to learn more.
These statements have not been evaluated by the Food and Drug Administration. These products are not intended to diagnose, treat, cure, or prevent any disease.
Income Disclosure Statement
Please note the QuiAri business opportunity offers unlimited income potential. However, QuiAri makes no guarantee of financial success. Success with QuiAri results only from successful sales efforts, which require hard work, diligence, skill, persistence, competence, and leadership. Your income will depend on how well you exercise these qualities.
Recommended Distributors QuiAri