Lars Dahlberg Named As Vemma Regional Director
June 12, 2013
By Team Business For Home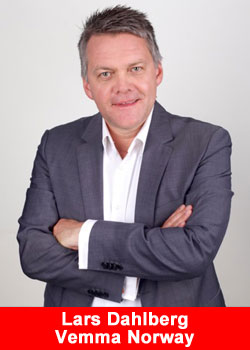 Vemma Europe, one of the leading wellness companies named Lars Dahlberg as Regional Director for Scandinavian Markets.
"We're thrilled to have Lars coming onboard," said Simon Grabowski, Co-Founder and COO of Vemma Europe.
"He's an accomplished executive with tremendous industry experience and indisputable record of achievement. Scandinavia is one of the most dynamic markets for Vemma in Europe and — now that Lars has joined our team — we believe we are going to take it an even higher level".
"Lars will work to make sure Vemma is the #1 choice for anyone and everyone who pursues a career in this industry. Just watch us. —
ABOUT LARS DAHLBERG
With more than 15 years of experience in the Direct Sales industry, Lars Dahlberg has covered all areas of the business. He began his career as a part-time distributor in the mid-90´s, quickly becoming a full-time networker and consultant.
I'm excited about joining the Vemma Europe team. There is huge potential in the Scandinavian countries, where people are very conscious about their wellbeing." said Lars Dahlberg. "The Vemma product line is a perfect match for the Scandinavian customer — a high-quality formula and convenient packaging. And with Vemma's dynamic compensation plan, we've got a solid foundation for success in the years ahead.
Lars achieved success working for European, Chinese and American companies, serving and consulting in management, sales and marketing, business development, events management and training.

ABOUT THE VEMMA PRODUCT LINE
The flagship product is Vemma nutritional supplement, a tasty ready-to-drink formula containing 12 vitamins, minerals, mangosteen, organic aloe vera and organic decaffeinated green tea. The formula is based on the wellness philosophy of nutritional researcher and visionary Yibing Wang, M.D., Ph.D.
Verve is an energy-boosting drink designed for today's active lifestyle. The great-tasting, lightly-carbonated beverage is a an alternative to energy drinks. Verve delivers a blend of essential nutrients plus 80 mg of natural caffeine like no other drink on the market.
Vemma Bod•? is a line of weight-management products designed to help you achieve desired weight goals without sacrificing wellness. Its nutritional formula helps curb the appetite while increasing natural energy. Bod•? is part of the Vemma Bod•? Transformation Plan that includes a sensible diet and moderate exercise to achieve desired changes.
ABOUT VEMMA EUROPE
Vemma Europe was co-founded by BK Boreyko, Founder and CEO of Vemma, and Simon Grabowski, entrepreneurial founder and CEO of the Implix family of software companies. The product line is marketed worldwide through a network of independent Brand Partners, who promote products on a daily basis.
From the beginning, Brand Partners have been supported by a cutting-edge Web platform. This asset has been expanded and redeployed as a mobile application that enables Brand Partners to manage their entire business via iPhone or Android smartphone.
Also available for download free of charge, is Bod•? 2.0 — a consumer app featuring TV Celebrity Transformation Specialist Chris Powell and his wife, Heidi Powell, Vemma Bod•e Spokesperson, Personal Trainer and Life Coach, delivering daily video tips and inspirational messages via smartphone.
Building the infrastructure of the company on a mobile platform is genius, and an absolute necessity to stay on the cutting edge," said Lars Dahlberg. "We will continue to build and develop a culture of success and make sure Vemma is the #1 choice for anyone and everyone who pursues a career in this industry. Just watch us.
The management team at Vemma Europe is confident about the success and growth of the Scandinavian markets. Brand Partners in these regions can expect Lars Dahlgren to provide world-class, dedicated support to help them achieve record levels of success. For more information, please visit www.vemmaeurope.com