How Amway Doubled Revenues In 10 Years
October 19, 2013
By Team Business For Home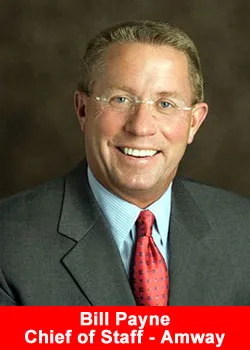 Just over a dozen years ago, global giant Amway was stumbling. Sales were down in the U.S. and Latin America markets. The company's aggressive growth in the 1990s resulted in ballooning costs at the Ada headquarters as revenues were falling.
China had banned direct selling after the company invested $300 million on infrastructure development in the country. It was time for major changes.
"We were plagued by reputation issues," recalled Bill Payne, 60, Amway's chief of staff.
The company responded by undertaking its first comprehensive business restructuring, shedding 1,300 jobs while setting a new strategic direction that included renaming the parent company Alticor. Then, the direct-selling giant began hiring people with the right skill set for that direction.
"We really needed to change the culture to get into a more risk-oriented model," Payne said. About a dozen years later, the company's annual sales grew from $5 billion to $11.3 billion in 2012.
The piece of Amway history was shared as part of Payne's speech "Are you surviving…Or are you thriving, given to 100 people at the University Club of Grand Rapids. The breakfast gathering was hosted by the Business Round Table, a conservative business group. The event had a Christian theme, including a closing prayer and Bible verses on the back of the program.
Payne returned to Amway as chief of staff in 1999 as the company leaders were preparing to make big changes. In the role, he works with Amway Chairman Steve Van Andel, President Doug DeVos and Chairman Steve Van Andel in overseeing day-to-day management at Amway, and parent company, Alticor Inc.
He originally joined Amway in 1979 and worked in sales and marketing until 1985, when he took a leadership position with another company. He rejoined Amway in 1999 to take on the chief of staff role.
Prior to his return to Amway, Payne served as president of The Windquest Group, a privately held, multi-company operating firm owned by Dick and Betsy DeVos. He was also a partner in Payne-Zwiep and Company, a Grand Rapids-based mergers and acquisitions firm.
He currently serves on the board of directors of Start Garden and Holland-based S2 Yachts. He credits Amway leadership for maintaining its core values even during difficult times.
"It would have been very easy to pay under the table and get out of some of those situations," said Payne, talking about the China, which is now the company's biggest market and accounts for 40 percent of sales.
One of the company's values is transparency, although that reflects a change in practice. Payne said he remembered when the late Amway co-founder Jay Van Andel would take the company's financial documents and lock them in the trunk of his car when he went home.
Payne said the company has been transparent about its struggles in India where the company's top leadership was arrested on charges of fraud associated with the company's direct selling structure. Payne said Doug DeVos flew there to support the operation's leadership.
Over the decades, Amway affiliates were given the flexibility to adapt the Amway model to fit their own customs and traditions, but there has been an effort in recent years to standardize the processes and practices in all countries.
"We are trying to get everyone on the same page," Payne said. The company's approach to leadership is to focus on people. That means not to blame, but at the same time not be afraid to make tough personnel decisions.
"They don't get easier and they don't go away," said Payne, adding that it probably the most difficult part of his job. Payne said he tries to focus on what his employees do well, and often writes personal notes by hand.
"It seems like a little thing, but its those little things that make a huge difference in how (and) what way you can motivate people," Payne said.
He added that he also tries to leave his office and interact with his colleagues in their work space. He said he and DeVos are discussing knocking down the walls of their spacious offices to create an open work environment so they can better interact with other employees. It's a trend that has been gaining traction in the corporate world.