Blue Diamond Andre Winata Leosaputra Helps Others Realize Dreams Through Talk Fusion
July 2, 2016
By Nicole Dunkley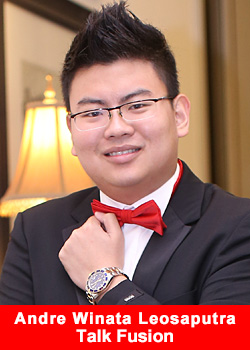 Blue Diamond Andre Winata Leosaputra believes that a powerful dream and enough determination make anything possible. And he's reminded of how true that is every time he drives his Ferrari California to his beautiful home. Though his dedication has helped him realize his dream of success with Talk Fusion, it wasn't an easy road.
As one of Team Indonesia's first leaders, Andre worked diligently alongside Mario and Marselinus Halim to spread Talk Fusion's cutting-edge products and unmatched business opportunity throughout his country.
He spent much of his time away from home as he shared Talk Fusion and everything it represents: hope, possibilities, and a new way of life. Although it took some time, Andre's patience and tenacity held strong and Talk Fusion has changed thousands of lives all over Indonesia and the world.
While Andre is proud of his accomplishments and the work he has devoted to building his Talk Fusion business, his success is about so much more than just enjoying time and financial freedom or living a life of luxury. Andre feels the full weight of his purpose every time he watches another member of his team succeed.
Talk Fusion's mission is to help people realize their dreams. Andre isn't successful just because he shares innovative technology—he's successful because he believes in Talk Fusion's mission and is committed to changing lives.
After attending 7 consecutive incentive trips (including Dream Getaway and the VIP Vision Tour), earning a fully purchased Mercedes-Benz, receiving an impressive Rolex watch and stunning gold and diamond Recognition Ring, buying himself a beautiful house and a brand new Ferrari, and witnessing his team overcome incredible obstacles in order to reach their dreams, Andre is confident that joining Talk Fusion was one of the best decisions he ever made. And he has big plans for the future.
For him, true success comes from working and succeeding together. That's why Andre's next goal is to help 100 team members reach the rank of Diamond.
"I want other people to feel what I feel," said Andre. "Because Talk Fusion changed my life.
ABOUT TALK FUSION
Home of the world's first all-in-one Video Marketing Solution, Talk Fusion is dedicated to helping businesses stand out from the competition, increase sales and profits, and keep their customers coming back. Talk Fusion offers dynamic ways to make marketing more engaging, memorable, and persuasive with video.
Talk Fusion's innovative products are marketed person-to-person by Independent Associates in more than 140 countries. 30 day Free Trials of the all-in-one Video Marketing Solution are available to anyone who wishes to try before they buy—no credit card required.
Established in 2007 by Founder & CEO Bob Reina, Talk Fusion fosters a strong commitment to Giving Back to family, friends, communities, and animal charities across the world. Learn more or sign up for a 30 day Free Trial at www.TalkFusion.com and "Like" Talk Fusion at www.facebook.com/TalkFusion.
DISCLAIMER
The incomes and lifestyles depicted in this article are not representative of the results achieved by most Talk Fusion Independent Associates. Talk Fusion does not guarantee your financial success. For actual results achieved by all Talk Fusion Independent Associates, see Talk Fusion's Income Disclosure Statement at www.talkfusion.com.