Customer-Based Leader Jana Clinton Joins Touchstone Essentials
December 20, 2019
By Team Business For Home
Jana Clinton hasn't always been in the network marketing industry, but she has always gravitated toward companies with a particular set of values. She worked for the kind of people whose personal principles carried over into their professional standards.
"I've always worked for family-run companies, such as Nordstrom, where our decisions were guided by simply doing the right thing. When you're doing what's right by your customer, you don't need permission. That kind of autonomy instills so much confidence and leadership."
When Jana finally did make her way into the industry, she was very successful. She thrived on being able to serve a community of people. She found that helping was her calling and making a difference was her motivation.
"I loved network marketing. I did well and I truly liked the business model. What I didn't like was when products my customers loved were altered or discontinued altogether by a company, which unfortunately began to happen frequently. So, I stepped away."
Jana wasn't looking for a new company when she found Touchstone Essentials. She discovered it through fellow Touchstone Essentials' leader, Alan Newell.
"I've known Alan Newell for six years outside of the direct sales industry. He posted about CBD on Facebook, and I reached out about how to get it. It didn't feel like selling at all. Here was a product I needed, recommended by someone I trust."
Jana didn't intend to get back into network marketing but was so impressed by the science behind the products, and the growth potential of the CBD market, that she wanted to know more about the business. Reservations about her prior experiences aside, she reached out to Touchstone Essentials' CEO and Founder, Eddie Stone.
"When I started talking to Eddie, I aligned with everything he was saying. Every decision he makes is thoughtful, logical and relevant to his business and customers. It's not about fast money, it's about foundational volume. It's transparent, ethical and committed to the customer."
When Jana decided to reenter the business, her vision was crystal clear. She was able to reignite her passion for making a real difference in peoples' lives with products and beliefs that aligned with her own. Even though money wasn't the motivation, it didn't take long for her business to grow.
"I'm a customer-based leader. That's my passion. But if you dig in—even just a little, the compensation plan is incredible. The checks kept coming every Friday, and the business keeps growing."
While Jana enjoys the rewards her growing business provides, from traveling across the country, to spending time more time with her grandchildren, it's her ability to make a difference in the lives of others that really drives her.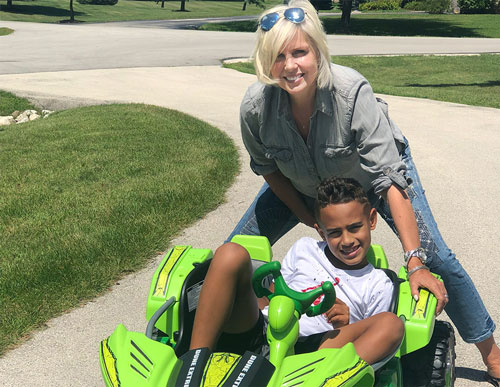 "I love building relationships. As you get older, your world tends to get smaller. You start off with so many communities and suddenly you don't have them anymore. But Touchstone Essentials has given me a community of kind, generous, and thoughtful people, and a vehicle to do what I'm most passionate about—making a difference."
About Touchstone Essentials
Touchstone Essentials was founded in 2012 by 30-year industry veteran, Eddie Stone, with a vision of organic goodness accessible to everyone. They ship to over 60 countries around the world. Touchstone Essentials has been experiencing double-digit growth over the past 3 years and with the recent launch in August 2018 of the organic CBD hemp oil line, things have started reaching critical mass.
They describe themselves as proud rebels with a cause, offering products for Daily Detox, Organic Superfoods, and CBD. When you join as a VBO, you become a visionary business owner. As a VBO, you're the CEO of your own empire, but you're not alone. Touchstone Essentials offers an advanced digital marketing system with a trove of resources, all at no additional cost. This includes a TheGoodInside.com e-commerce site, blog, and e-newsletters, social media retargeting and more. For more information please visit www.thegoodinside.com